Photo Booth Rental Cedar Rapids
Pixilated Photo Booth Rentals in Cedar Rapids, Iowa
Looking for a fun and unique way to capture the memories of your Cedar Rapids, Iowa event? Look no further than our photo booth rentals!
Our photo booths are the perfect addition to any event, from weddings to corporate gatherings and more. With our state-of-the-art technology and high-quality cameras, you'll be able to relive the fun and excitement for years to come.
Why worry about capturing the perfect shot when you can let our booths do the work for you? Our DIY friendly photobooth is one click away from a high quality picture. 
Fun Fact: Did you know that Cedar Rapids, Iowa is home to the National Czech & Slovak Museum & Library? It's a must-visit for locals and visitors alike!
Don't let your Cedar Rapids event fade into memory – book our photo booth rentals today and create memories that will last a lifetime. And remember, when it comes to photo booth rental Cedar Rapids, we've got you covered!
Our Cedar Rapids Photo Booth Services
Photo Booth Rental
Add a fun element to your wedding with our DIY wedding photo booth service, which is easier than hiring a photographer. Not only will it keep your guests entertained, but they'll also get personalized picture souvenirs to cherish for years to come.
GIF Booth
If you're looking to add some extra fun and excitement to your event, consider renting our GIF photobooth. Unlike traditional photo booths that capture a single moment in time, our GIF Booth captures a series of moments and turns them into a unique, animated GIF that your guests can take away with them as a memento.
With our GIF Booth, your guests can let loose and show off their silly, spontaneous side. They can create a short, looping video that captures their unique personality, which they can share with friends and family on social media.
Black & White Booth
Transport your guests back in time with our Black & White photo booth, the perfect addition to any event with a vintage or period theme.
Our booths are designed to evoke a bygone era with their classic black and white photos, giving your guests a truly unique and nostalgic experience.
With our Black & White Booth Rental, you can create a sense of old-world charm and sophistication that is perfect for weddings, corporate events, or any other occasion. Our booths are designed to be sleek and compact, taking up minimal space while adding a touch of class to your event.
Green Screen Booth
If you're looking for something unique and versatile, our photo booth with green screen is an excellent choice. With this option, you can customize the background to your heart's content.
Choose any digital image you like or go with one of our original graphic overlay backdrops to create a truly immersive experience for your guests. With this level of customization, the possibilities are endless, and you can tailor the booth to fit the specific needs of your event.
For instance, if you're hosting a corporate event, you can customize the background with your company's logo or branding to reinforce your message.
What Our Cedar Rapids Photo Booths Offer
Hassle-Free Booking:
Booking a photo booth has never been easier! Our booking process is streamlined and straightforward. Rent our photo booths for a set number of days at a competitive per-day rate. No more worrying about returning the booth on a busy day - simply book it for the whole event!
Sleek and Compact Design:
Our booths are designed to be sleek, compact, and easy to set up. At just 3' by 3' and weighing under 25 pounds, they take up minimal space, and building and dismantling is a breeze! Plus, they are easy and free to ship straight to your location.
No Need for a Photographer:
Why spend the time and money to hire a photographer when you can have a photo booth? Our booths are user-friendly, so guests can easily step inside and capture their own memories. No more waiting in line or fighting for the photographer's attention.
Personalize Your Photos:
Our photo booths offer a wide range of personalization options. Guests can choose from black & white photos, exciting backgrounds, or create moving GIFs. With a variety of styles to choose from, our photo booths are perfect for any event or function.
Affordable Rental:
Our honest per-day rates make renting our photo booths an easy and affordable option. If you need the booth for an extra day or two, just let us know, and we'll make sure you have it for as long as you need it.
Free Shipping:
We offer free shipping to anywhere in the lower 48 states. Your photo booth will arrive promptly, at least one day before your planned event, so you have plenty of time to set it up and start capturing memories!
How To Rent a Pixilated Photo Booth:
1. We Ship The Kit To You
At our company, we believe in making the process of renting a photo booth kit as seamless as possible. That's why we offer free shipping to anywhere in the lower 48 states, so you can enjoy the convenience of having the kit shipped directly to your doorstep.
2. You Set It Up And Take Photos
Setting up the photo booth is quick and easy, and you don't need to be a tech-savvy person to do it. We provide step-by-step instructions to help you assemble and operate the equipment with ease. With our high-quality cameras and lighting equipment, you'll be taking beautiful and memorable photos in no time.
3. Send It Back
And when your event is over, packing up the kit is just as simple as setting it up. We include a prepaid shipping label with your kit, so all you need to do is pack it up and send it back to us. We'll take care of the rest.
Capture Memories With Our Cedar Rapids Photo Booth Rental!
Pixilated has you covered whether it's wedding photo booth rentals, corporate event, anniversary party, or any type of event. With our hassle-free shipping and setup process, you can focus on enjoying your event and creating memories that will last a lifetime.
Pixilated Preferred Vendors
Venues

Photographers
DJs and Bands
Event Planner
Event Production
Catering
Serving these areas:
Czech Village

Wellington Heights

Noelridge Park

Oakhill Jackson

Worthington Acres

Northwest Area

Lincolnway Village

Mound View

Westwind Creek

Kenwood Park

West Cedar Rapids

Taylor
Including these counties:
Linn County

Benton County

Cedar County

Iowa County

Jones County

Johnson County

Washington County
Photo Booth Rental Options
See what our happy clients have to say
Our photo booth rental kits are available everywhere in the United States
We ship the kit to you

Guaranteed to arrive at least one day prior to your event. Includes everything you need. Delivered by UPS right to your doorstep. Free shipping.

You set it up and take photos

Unpack. Assemble. Connect to wifi...then the fun ensues! Snap as many images as your heart desires, arm in arm with your friends, all day (and night)!

Then you send it back to us

The next business day following your event, pack up the equipment in the original box and drop it at the nearest UPS Store. Free shipping, again.
What's included in the photo booth kit?
More affordable, more flexible, more customizable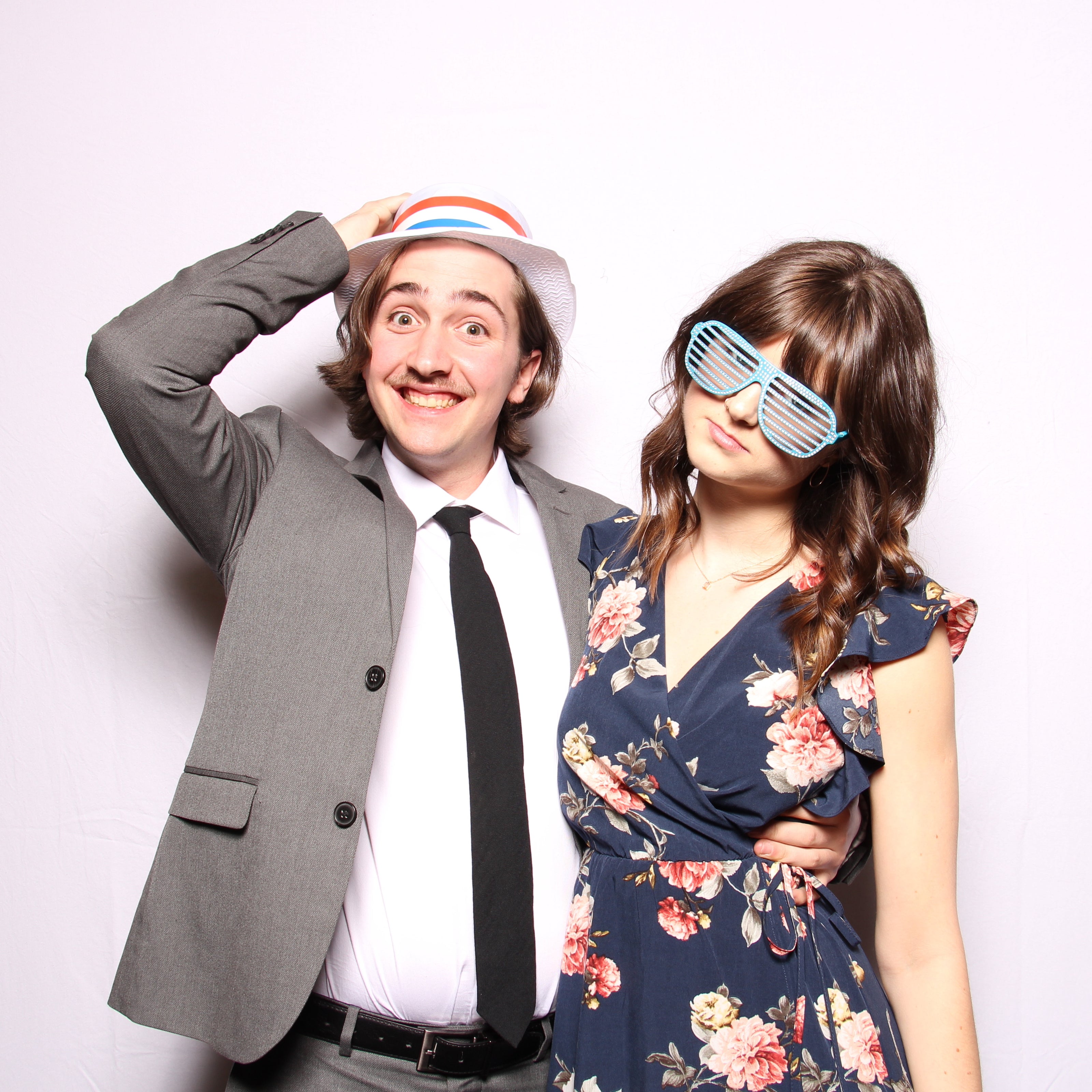 1. Fast, easy online booking

Just choose your desired options, add to cart and checkout
2. Free, reliable delivery

Guaranteed to arrive minimum one day prior to your event
3. Works right out of the box

Takes 5 minutes to set up, even for my grandpa :)
4. Compact and portable

The entire package is 24" x 24" x 10" and weighs less than 25 lbs, including the stand
5. Completely wireless

Runs on a battery pack, and comes with a backup just in case
6. Great photos, no photographer needed

Upgrade to our 18MP smart camera for awesome quality
7. The most affordable

The cheapest photo booth rental on the market…in price, not quality ;)
8. Rent by the day, not the hour

Who are we to tell you when the party ends!?
9. Awesome personalization options

Create your perfect experience with GIFs, green screens, monochromatic photos, themes, frames, and more!
10. Simple guest experience

No need for an expensive attendant adding to your already over-budget headcount...our booths are DIY and super easy to use!
Frequently Asked Questions
How much space is required?

If you do not plan to set up a backdrop, the kiosk itself takes up a 3' x 3' footprint.

If you plan to set up a backdrop, it depends on the width, but usually around 8' x 8' will suffice.
Do I need WiFi?

Ideally, you'll connect your booth to WiFi so your guests can send themselves their images instantly through email or text message.

If you don't have on-site WiFi or a hotspot, your photos will get stored in an "offline queue" until the device gets connected to a network. At that time, all images will instantly get sent.
When will my booth be delivered?

We'll ship it to you so you have it at least one business day prior to your event date.

Need it sooner? Contact us
Can I book over the phone?

Need help making decisions?

Call us at 888-902-0054 and we can help you with your booking over the phone.
How long can I use my rental?

Our booths rent by the day, not the hour…so you can use it for up to 24 hours!

If you purchase additional days, each added day is equal to a 24-hour time block.
Do I need a power source?

No!

We provide two battery packs that will last up to 8 hours (4 hours each) and can be recharged for continuous usage.

No messy cords. No trip hazards. No problems!
Do I need to set up lighting?

No, both of our camera options have a lighting source.

The Base 8MP camera has a LED light source attached with different brightness settings.

The Pro 18MP camera has a built in smart flash that will adjust to the lighting automatically no matter the environment. This is the best option for venues that are dimly lit.

All that said, any photographer knows that good light is the key to great photos, so if you can find a spot that naturally has good lighting, that'll be the cherry on top!
How far in advance do I need to place my order to take advantage of free ground shipping?

We guarantee free shipping for events that are a minimum 7 days away.

Contact us if you have a rush order!
How do I return my booth after my event?

Within one business day after your event, you'll repack it in the same box that it was delivered in, place the return label on the box, and take it to any UPS drop-off location. That's it!
How do guests get their images?

After each photo session, your guests can email or text their pictures to up to 5 people.
What's the difference between the "Base 8MP" camera and the "Pro 18MP" camera?

The Pro 18MP camera takes really crisp high-resolution photos and works great in every lighting scenario.

The Base 8MP camera is is the better option if you're on a budget.
What is the difference between the design options "Standard" and "Customized"?

Standard design includes our classic booth interface without any customization options, like logos, graphics or frames. This is a great option if you have a busy backdrop or are going for a clean, classic look.

Customized design allows you to use our templates or to work with our designers to create your very own branded booth experience. Great for wedding themes and monograms, or to add logos.
Can the GIF booth also take regular photos?

You bet!

Our GIF Booth gives you the option to choose to take a photo or a GIF. There is a button on the left that says Tap for Photo and a button on the right that says Tap for GIF.
For the Green Screen Booth, is the physical green screen included?

Yes, we provide you with a green screen (chroma key) backdrop that includes the stand.