Regular price
$399.00
Sale price
$199.00
Unit price
per
SAVE 50%
Sold out
The power of a photo booth available on any device, accessible from a single link or QR code! Virtual photo booths are a great addition to any live, virtual or hybrid event. 
Interactive, engaging and fun

Looking for an entertaining, memorable, and safe way to bring everyone together?

Virtual photo booths are a great addition to any virtual or hybrid event — including virtual conferences & summits, non-profit events, virtual networking, morale & team building initiatives, higher education events, event sponsorships, and so much more!
Accessible from any device

Our online photo booth runs in your web browser and is hosted on a unique URL that can be accessed through a QR code, button or link.

Virtual booth can function as a stand-alone website or can easily be integrated into your existing website or virtual event platform.

When your guests scan the QR code or click on the link, they'll be guided through a simple photo booth interface allowing them to take or upload photos from their device that instantly get branded with your logo and shared to your online event photo gallery.
How it works

1. Add to cart and enter your details during checkout.

2. Once we receive your order, our design team will email you instructions on next steps.

3. After your virtual booth site has been designed, you'll receive your link and QR code to share with your guests.

4. You and your guests have fun taking and uploading event photos.

5. After your event, you'll have access to the photo gallery for a minimum 180 days.
What's included

- One virtual photo booth website (includes a landing page, photo uploader page, and gallery page)

- Up to 7 days of usage for base package (Up to 30 days if you have a longer campaign)

- Online gallery page hosted for 180 days

- Unique link and QR code

- Custom website logo and background

- Custom photo overlay frame

- Up to 3,000 photos
Share
View full details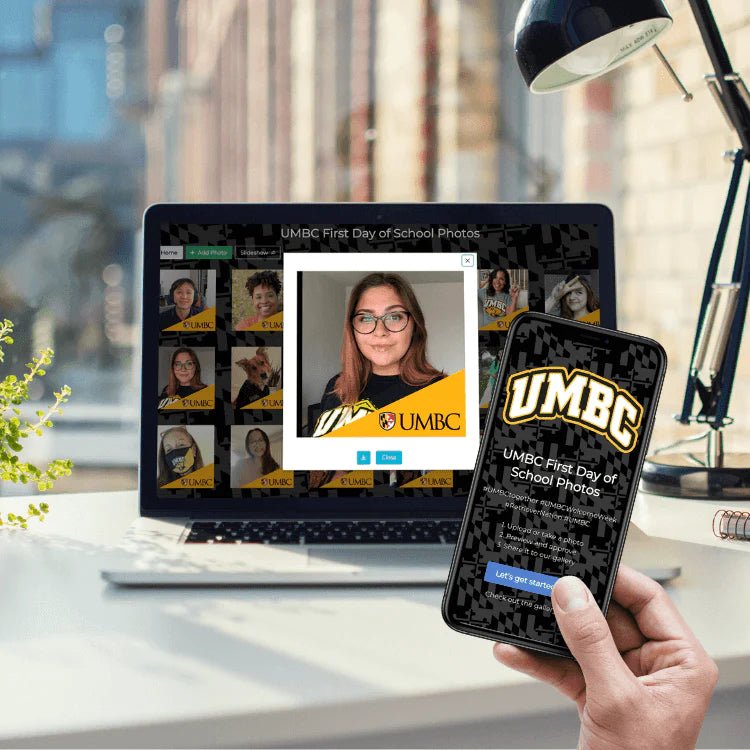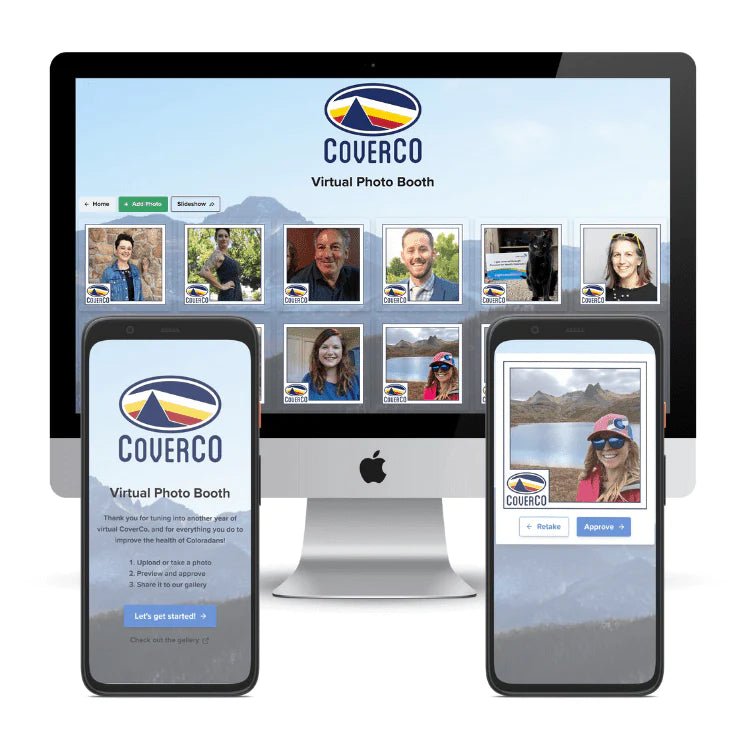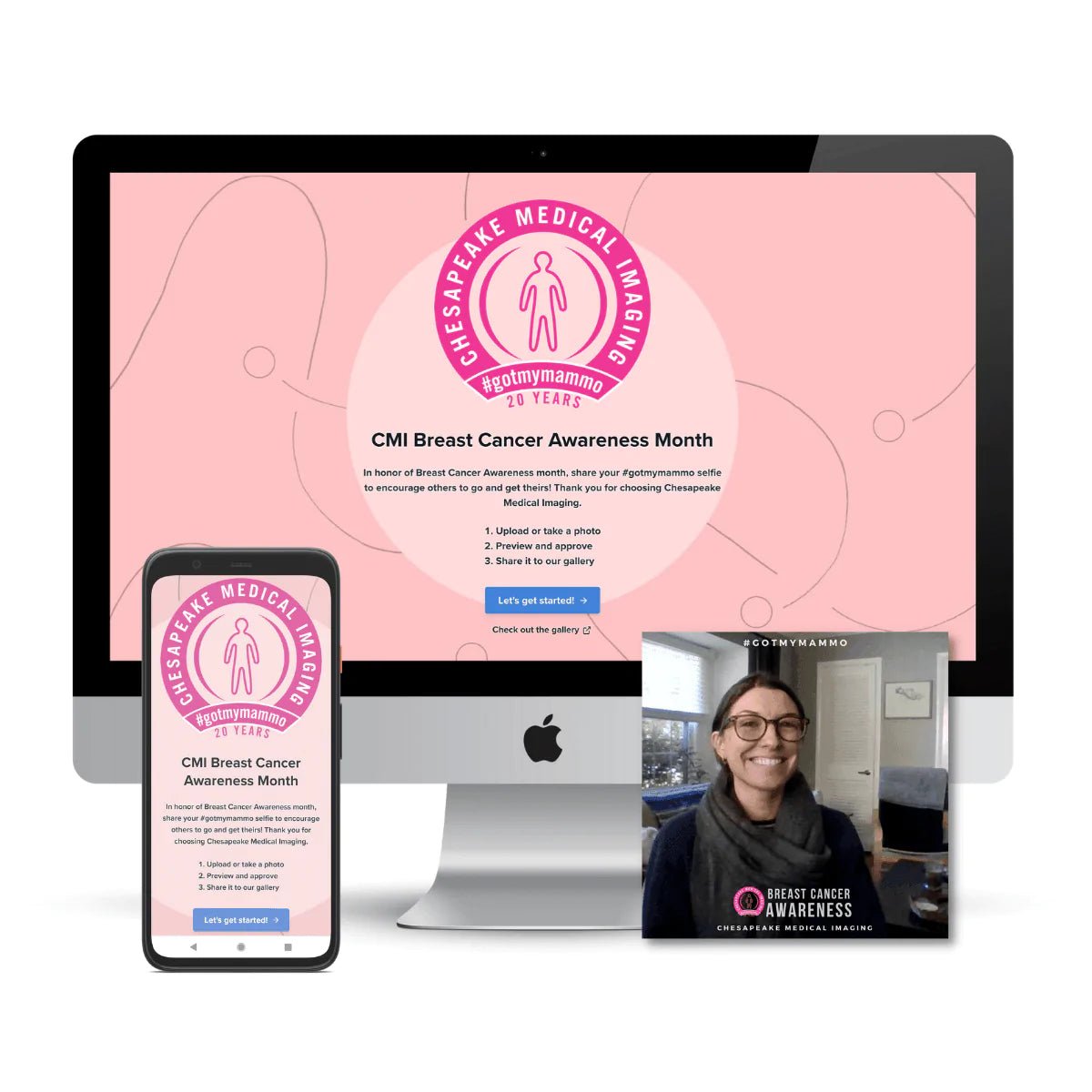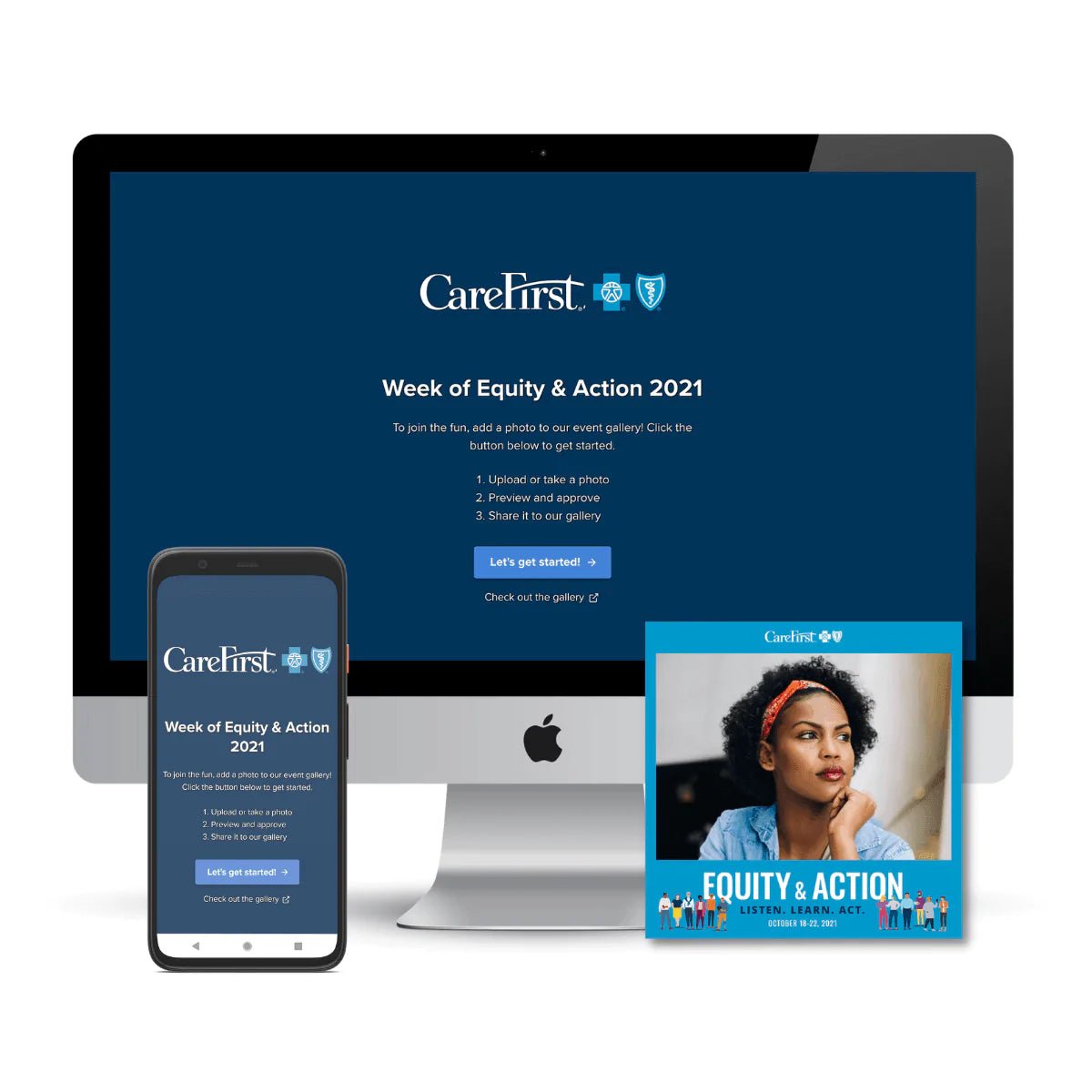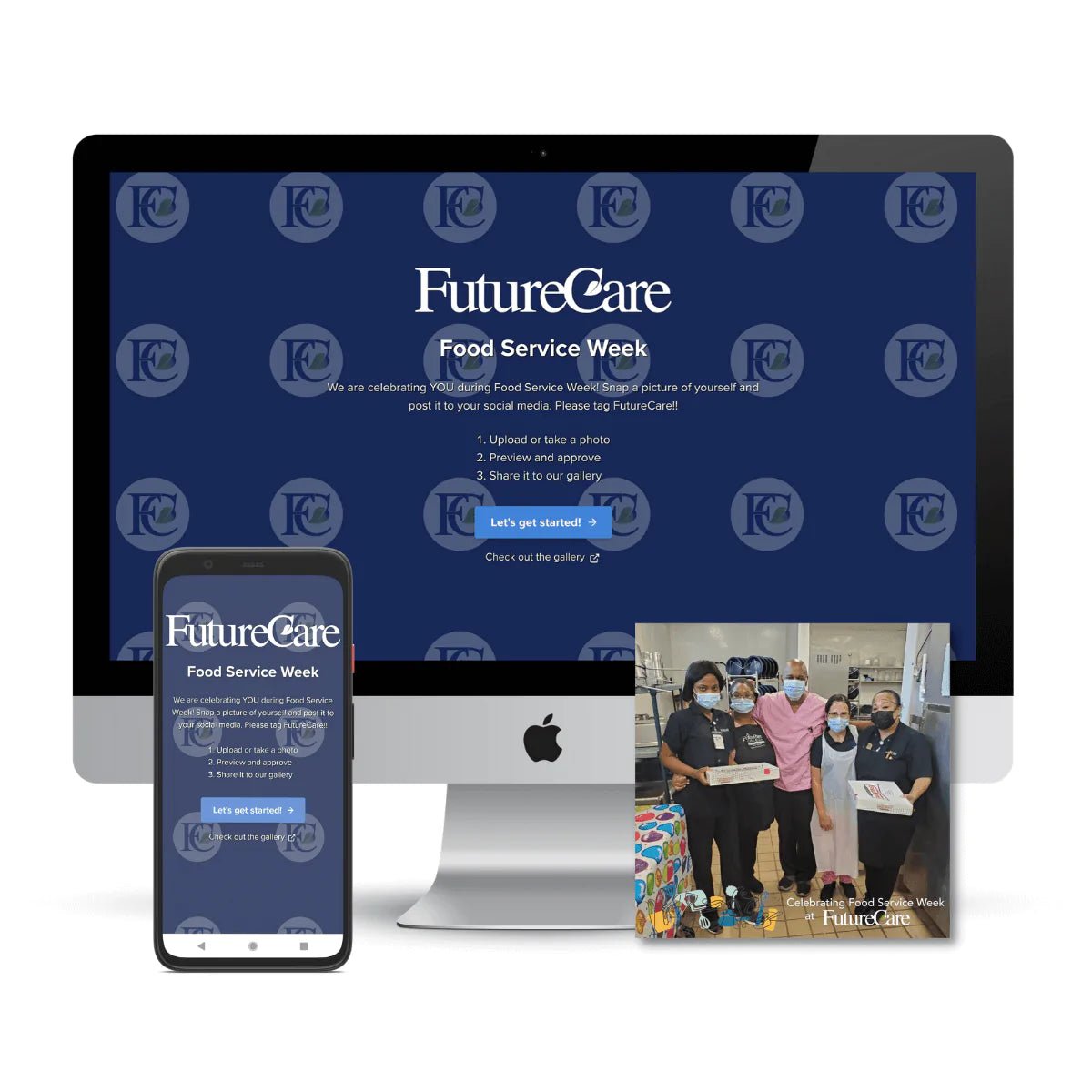 Turn any device into a photo booth with a single link
Share your unique link and QR code with guests

Include the link in your invitations or messages to guests. Display the QR code on your event page or on printed signage.

Click or scan to launch the photo booth in your browser

Your device will instantly be turned into a photo booth with the ability to take and upload pictures and add fun frames.

Guests can share their photos to your gallery

Your event gallery displays all the photos crowdsourced from your guests. A shared experience that's fun for everyone!

We'll host your online photo gallery for 6 months

The link to your event gallery will be live for viewing, sharing and downloading pictures for you and your guests for 180 days.
Customize to match your brand
Looking for a creative and fun way to celebrate and make memories?
Whether your event is virtual, in-person or hybrid, our online photo booth works on every device in any scenario! No app needed.
Frequently Asked Questions
What is a virtual photo booth?

A virtual photo booth is an interactive tool that is designed to help institutions, brands and event organizers engage their audience during events.

It works just like a real photo booth, but it runs in a web browser like Chrome or Safari so you don't need to download any apps. Guests of your virtual event can have fun taking photos and uploading photos remotely to a shared gallery.

The entire virtual experience can be branded and customized to seamlessly fit into your event theme.

Using a unique link, a QR code, or an iframe, our virtual photo booth can be integrated directly into your virtual event software platform. If you're looking for creative virtual event ideas, you need to check out our virtual photo booth!
How does Pixilated's virtual photo booth work?

After you book, we send you a link to our design center where you can submit your preferences for your site design. Then we configure your unique event photo booth website and send you a unique URL and QR code. 

You share your personalized link with your guests or audience. Guests can take all new pictures or simply upload an existing photo to the PixiWeb site.  

The photos get your custom overlay, frame or border applied instantly, then guests submit their photo to your shared event gallery. You and your guests get to enjoy your online photo gallery together and can download photos or post photos to social media sites. 
Do I get all of the photos after my event?

Yes. You'll have access to your online event photo gallery for a minimum 180 days after the event.

You will also receive a zip file containing all of your photos for download.
Can I add a logo to my virtual photo booth website?

Yes, it includes a custom logo or graphic on the home page and gallery page. You can add your logo to the start screen of the virtual photo booth experience and to your online event photo gallery.

We can also include your logo on each of the photos applied as an overlay or incorporated into the frame.
Can I customize my virtual photo booth experience?

Yes! We have Adobe Illustrator templates and Canva templates that you can use to personalize the on-site logo, site background, and photo overlay or border.

Don't have design skills? No problem. Our design team can help you realize the virtual photo booth site of your dreams!
Does it work better on a phone or a computer?

Since it runs in the browser, it works well on either device. That said we prefer mobile devices.

Here's why:

1) Phones typically have better cameras and take better pictures.

2) Phones offer more mobility and flexibility to find a better lighting environment for taking your photos.

3) If you opt to upload a picture rather than taking one, it is likely that most of your favorite pictures exist on your phone's camera roll.

All that said, the site will function smoothly and the galleries look great on all devices!
Is your virtual booth software safe and secure?

Of course! We use the latest in AWS encryption technology and have added the ability to turn on security pin protection so that no unauthorized users add photos to your gallery.
How do my guests receive their photos?

Guests can instantly download their photos after they post them to the event gallery. Photos can also be sent via text message.
Do I need to download an app for the virtual photo booth?

No! Virtual booth is built to run on your web browser meaning all you need to do is click on a link or scan a QR code and the site will instantly launch.
How long is my online gallery open to guests?

Your online gallery will be available for a minimum 180 days past your event.
How do I book a virtual booth for my event?

Simple, for our 7-day or 30-day turnkey package, just add this product to your cart and checkout. We'll follow up to get all the details, design collateral, etc.

For a completely custom virtual booth experience, you can contact us to provide us with the necessary information and talk with a representative. We'll reply ASAP via email with your pricing options. You can ask any questions you may have and when you're ready to move forward, we'll gather your logo/graphics, send you a booking invoice.
What are some creative ways to use a virtual photo booth?

We've had customers run photo contests like Ugly Sweaters, Pet Photos, and Costumes for a chance to win a prize.

We've also hosted scavenger hunts where guests had to take photos of the answers to each clue.

Team building and team spirit can also be encouraged through photo sharing - for instance "take a selfie in your company swag" or "show off your work from home setup".
Can I add a virtual photo booth to my Zoom, Microsoft Teams or Google Meet online event?

Absolutely! All you need to do is share the photo booth and photo gallery links with your Zoom, Teams or Meet guests so that they can start taking photos and making fun memories.

It's easy to share the link in the chat or put the QR code into your programming slides.
Can the virtual photo booth be integrated into a virtual event platform?

Yes. There are a few ways to do it, but the most popular ways are using an iframe or embedding the QR code so users can easily access the experience on their mobile devices without ever leaving your virtual platform.
Can I white-label your virtual booth software?

Yes! If you're looking for a long-term virtual photo booth software solution, whether it be for reselling virtual booth services or using it for your own calendar of events, contact us to learn more about our virtual photo booth software platform.

Our software allows you to create your own virtual photo booth websites and manage all of your events and photos from a simple online portal. We put the power into your hands and charge a software subscription fee.
The Virtual Photo Booth Experience
1. Start Screen

Personalize the first screen your users will see with your event name, color scheme, custom graphics, & more.

2. Choose Screen

Users can opt to either take a photo in "photo booth mode" or upload an existing photo from their device photo gallery.

3. Gallery Screen

Users can view all of the photos within your event in real-time with a shared event photo gallery.

4. Preview Screen

Users can view, download, and share their virtual photo booth pictures directly from the gallery page.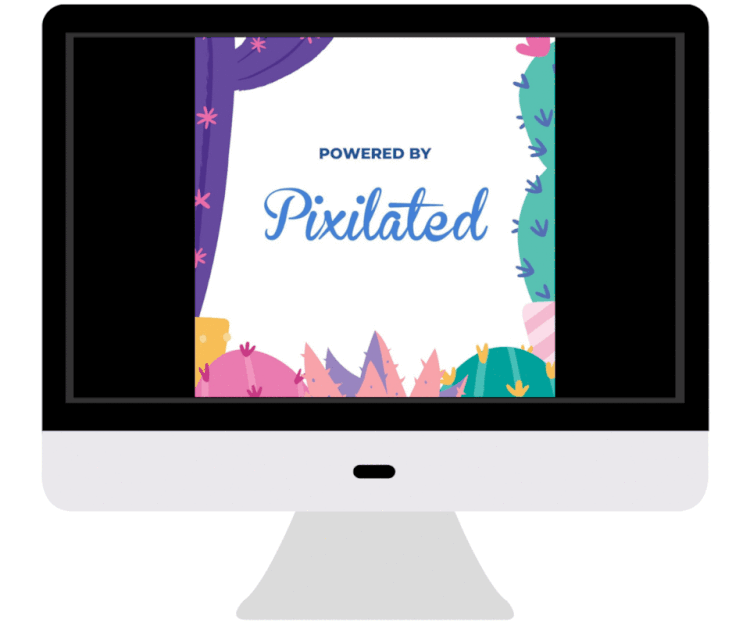 Cutting-edge Live Slideshow Feature
Feed your virtual booth pictures to any screen, monitor or projector!
One of our platform's coolest features, Live Slideshow allows you to create a real-time updating slideshow of crowdsourced photos from your event.
Crowdsourced slideshows that update with every new photo posted through your virtual photo booth.
Whether your event is virtual, in-person or hybrid we know that the most important thing to you is attendee interaction and engagement.
Live Slideshow works in tandem with Virtual Booth to give your audience a seamless and enjoyable way to add new pictures and view everyone else's event photos!
Watch a quick virtual booth demo video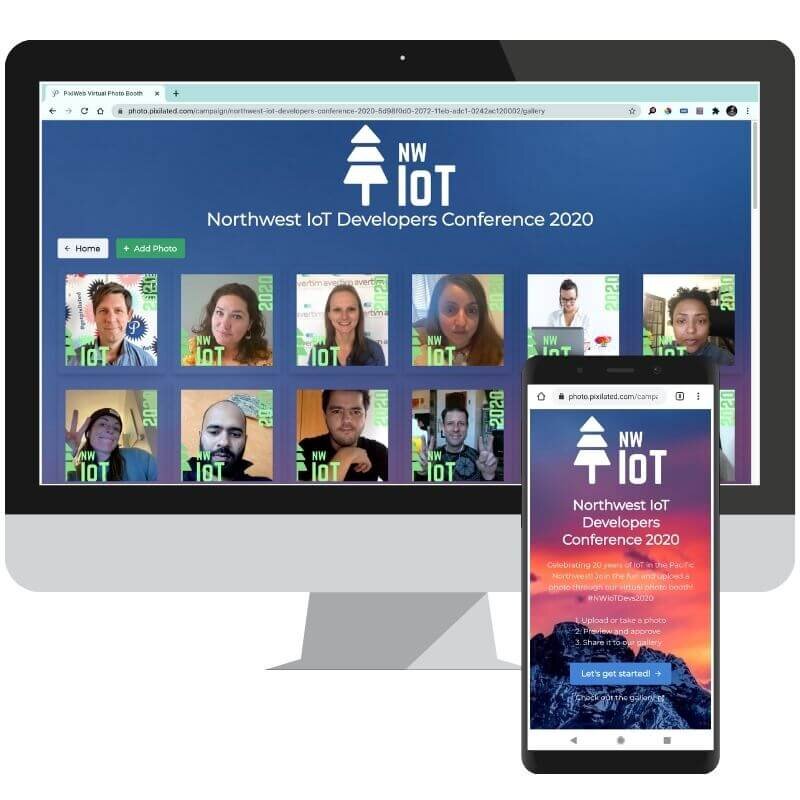 Great for virtual, hybrid & live events
Conferences, student engagement, networking events, morale initiatives, employee appreciation, team building, brand engagement, weddings, graduations, sports teams, and more!
For so much more than just virtual events.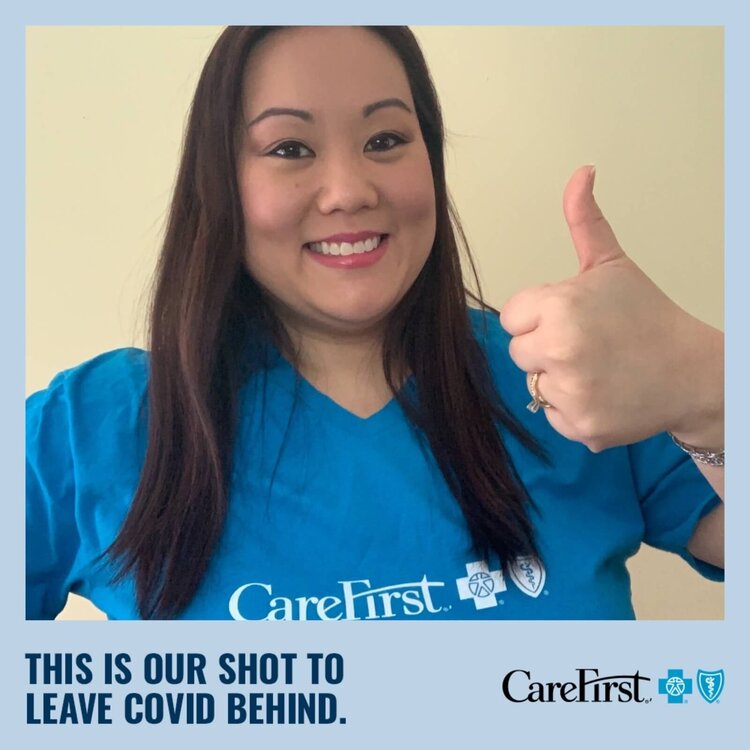 Are you ready for the bonus tip about our virtual booth?

The browser photo booth is only part of what it can do!

Your guests will also be able to upload photos taken on any device so that your event photo gallery can be filled with much more than photo booth photos. Picture your coworkers adding pet photos or even some fun throwbacks by years gone by. 

It is an innovative way to extend the life of your brand through a campaign that engages directly with potential consumers in a fun way.

Use virtual booth to fuel contests, create UGC, and drive donations for fundraisers. 

So you're probably saying to yourself: How can this thing work for my event?

That's a great question! A lot of times when new products hit the market it can be tough to see exactly how they could work for you; so below are just a few examples of exactly how a virtual photo booth can fit into your event plan.
For Weddings...

Are you having a wedding? If so, there's a pretty good chance that you've chosen your wedding date, you have to deal with the reality that some of the guests you hoped would be there on your big day still might not be able to make it. 

COVID-19 has been unpredictable from the start, and it's impossible to know exactly what's going to happen. We're all in a place where we have to make hard decisions about whether it's more important for our loved ones to be there celebrating in person or to forge ahead and hope for the best.

Either way, it's never to early to come up with creative virtual solutions to make your family and friends feel like they're a part of the fun while still keeping a safe distance from any potential health compromises. If that's the case, an online photo booth is the perfect fit for your wedding! 

Not only will all of your virtual guests, tuning in from around the world, have an opportunity to view photos being taken at the in-person event, but they'll also be able to take photos as well as upload memories and other images to share with everyone attending virtually and in-person.
For Graduations and Campus Events...

If you work on events in the education space, chances are that you've been trying to figure out which way is up for months now. Don't worry, you're not alone! 

Every education institution from preschool all the way through to graduate programs is trying to make sense out of how to continue their events and morale boosters in light of COVID-19.

So whether you're looking for some kind of creative way to honor the graduates from your institution or you're looking for a fun way to welcome the freshman class to campus, a virtual photo booth can be a reliable solution to guarantee fun!
For Fundraising Galas...

Looking for a way to make your annual gala a virtual event but coming up short on ways to effectively maintain buy-in and engagement?

We're hearing this more and more as every day another event becomes fully virtual or a hybrid of sorts.

For many organizations, their annual Gala is an absolutely critical element to helping bolster their annual operating budget. With the impact of COVID-19 on any and all types of fundraisers, many organizations are becoming increasingly focused on their attempts to figure out how to put on a fundraising opportunity in the virtual world without losing attendance and donations.
For Morale Initiatives....

If you're looking for a way to show some love to an important segment of your community, social media campaigns can have a big impact. Virtual booth is the perfect tool to help magnify your campaign across all social media platforms simultaneously, because it allows users to post their photos on multiple platforms all from the event gallery page.

An online photo booth is a great way to crowdsource support for your cause, allow everyone to have fun taking and sharing photos, and get your message across at the same time.

Whether you're looking to show love for front line responders or honor the graduate in your life, PixiWeb is a perfect way to simultaneously show you care and help boost morale by sharing supportive messages and photos with those that need your support the most.

Looking for a great way to bring the neighborhood together for Juneteenth or the 4th of July? Trying to figure out how to muster support for the community yard sale or fundraiser? Want to show some love and support for front line workers?

A virtual photo booth is the way to go!
For Brand Engagement...

With in-person events being put on the back burner for at least the next several months and stores and restaurants being at limited capacity, brands are going to need to get creative with the ways that they engage and interact with their customers. 

Luckily, Pixilated provides the perfect way for companies to promote their brands through online experiential marketing. If you're looking to step outside the box and try something other than traditional digital marketing, then this is for you. 

Want to do a UGC driven giveaway or discount? Want your fans and customers to rep your latest products? Want to make things a whole lot easier on your social media marketing team? Want to get the word out about something hot off the press? 

Have your customers and brand ambassadors use your virtual photo booth to take and post photos with your products. Users can post their photos directly to social media, and the shared event gallery will give your marketing team all the content it needs for authentic posts.
For Company Culture and Employee Appreciation...

With everything going virtual/remote, including the modern workplace, it's more difficult than ever to ensure your employees are fully bought-in and vibing with the company culture you've worked so hard to create.

Things like virtual happy hours, virtual team meetings, dedicated Slack groups, bring your pet to virtual workday, and themed meetings are all the rage right now. Companies are trying anything and everything to get their employees to feel a sense of community and camaraderie.

Virtual booth can add an extra layer of awesome to these events by allowing you to take fun photos and create a gallery full of memories along the way. Make it a themed event and have everyone share a photo of their best 80's look or just show off their favorite WFH outfit. 

Really, the sky's the limit when it comes to how it can apply to internal company events. The only limit is your imagination. Planning something fun for National Donut Day? Team pictures? Just want to capture everyone's photos from an out-of-office excursion? Virtual booth is just the thing. 

While our photo booth feature is a great way to dress up team member's photos with a glazed donut overlay, our shared event photo galleries are an amazing way to collect everyone else's documentary photos from a trip or project.
For Sports Teams...

When it comes to figuring out how to bolster fan engagement from a distance, sports teams may have it harder than most.

Luckily, our virtual photo booth is incredibly flexible to a variety of engagement opportunities.

Looking to rally fan support?

Looking to get your players excited about being part of the team?

Want to celebrate a new season? 

Team bonding?

Fundraising?

Show off those team colors in your very own [INSERT TEAM NAME HERE] virtual photo booth!

From there, you'll be able to repurpose the photos and share them on social media, commercials, and even the jumbotron when live events return.