Regular price
$585.00
Sale price
$469.00
Unit price
per
SAVE 20%
Sold out
Our Black & White photo booth kits produce monochrome photos. The DIY setup works right out of the box and a classic black & white filter is applied to each photo. Free delivery everywhere in the lower 48 states.
Why Rent a Pixilated Black & White Booth

Everyone looks great - Our B&W filter provides just the right contrast for a classic, glamorous effect

Easy online booking - Choose your desired options, select your date and place your order in just a few clicks

Free two-way shipping through UPS - Guaranteed to arrive one business day prior to your event

It just works - Takes about 5 minutes to set up, even for a newbie

Compact and portable - Weighs less than 25 pounds and takes up a 3'x3' footprint

No cords, no tape, no problem - Runs on a battery pack and comes fully charged with a backup

Rent by the day - Our rentals are in 24 hour blocks so you aren't handcuffed by rigid start & end times

Easy to use - Anyone can figure out how to take awesome black and white photos using the prompts on the screen...no attendant necessary
Free 2-Way Shipping

United States only.

Everywhere in the lower 48 states, we've got you covered.

Not applicable on rush orders though, so don't delay!
Lightning Fast Setup

It takes one person 5 minutes to get up and running.

It comes with picture instructions and requires no technical expertise.
What's Included in the Kit

In the box:

- Black & white photo booth kiosk

- Tripod floor stand

- Two battery packs

- Charging plug

- Instruction card

- Return shipping label

Also included:

- A link to view and download all your event images once your booth is shipped back
Frequently Asked Questions

How long can I use my rental?

Our booths rent by the day, not the hour…so you can use it for up to 24 hours!

What is the difference between the Design options Standard and Customized?

Standard design includes our classic booth interface without any customization options, like logos, graphics or frames.This is a great option if you have a busy backdrop or are going for a clean, classic look.

Customized design allows you to use our templates or to work with our designers to create your very own branded booth experience. Great for wedding themes and monograms, or for corporate events to add logos.

Do I need WiFi?

Ideally, you'll connect your booth to WiFi so your guests can send themselves their images instantly through email or text message. If you don't have on-site WiFi or a hotspot, your photos will get stored in a queue until the device gets connected to a network. At that time, all images will get sent.

How much space is required?

If you do not plan to set up a backdrop, the kiosk itself takes up a 3' x 3' footprint.

If you plan to set up a backdrop, it depends on the width, but usually around 8' x 8' will suffice.

Do I need a power source?

No! We provide two battery packs that will last up to 8 hours (4 hours each) and can be recharged for continuous usage.

Do I need to set up lighting?

No, the camera has a built in smart flash that will adjust to the lighting automatically no matter the environment.

How do guests get their images?

After a session, your guests can email or text it to up to 5 people.

How far in advance do I need to place my order to take advantage of free shipping?

We guarantee free shipping for events that are a minimum 7 days away.

Contact us if you have a rush order!

When will my booth be delivered?

We'll ship it to you so you have it at least one business day prior to your event date.

How do I return my booth after my event?

Within one business day after your event, you'll repack it in the same box that it was delivered in, place the return label on the box, and take it to any UPS drop-off location. That's it!
Share
View full details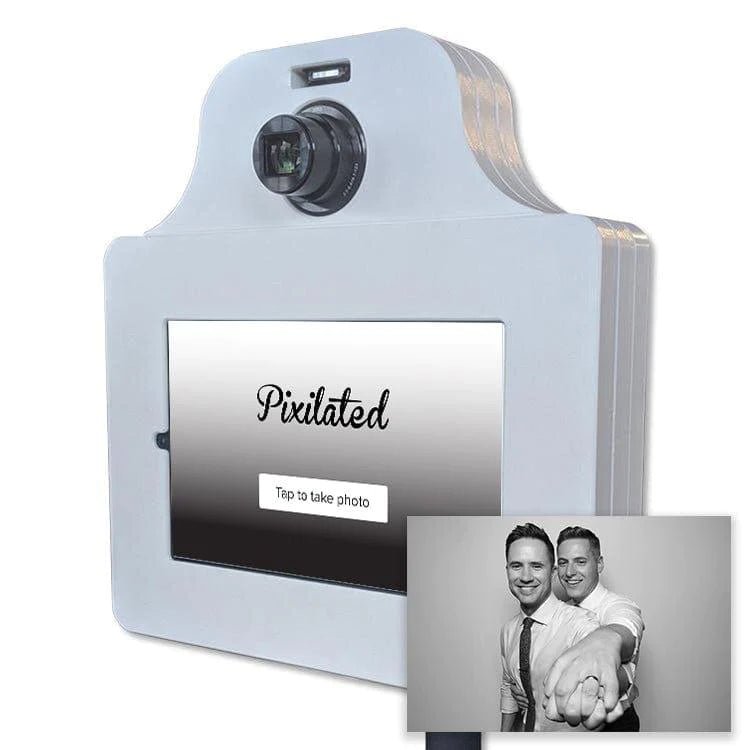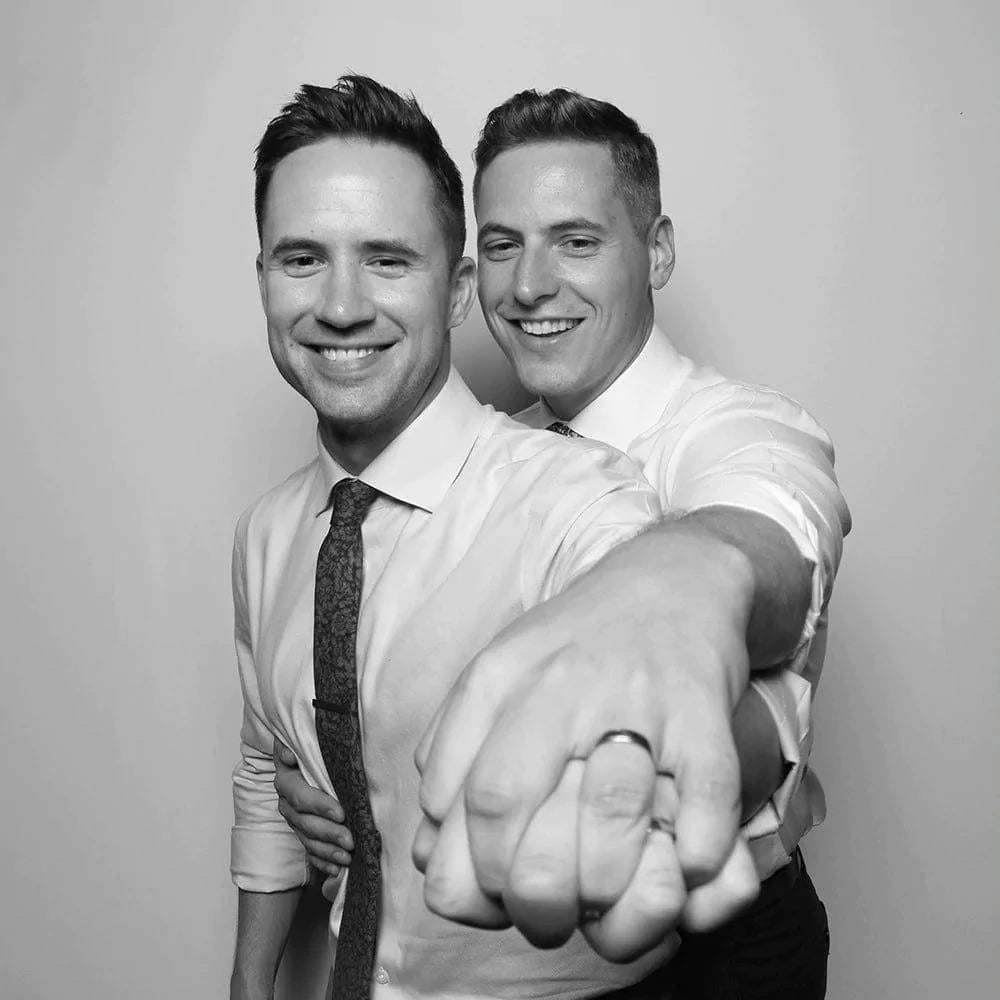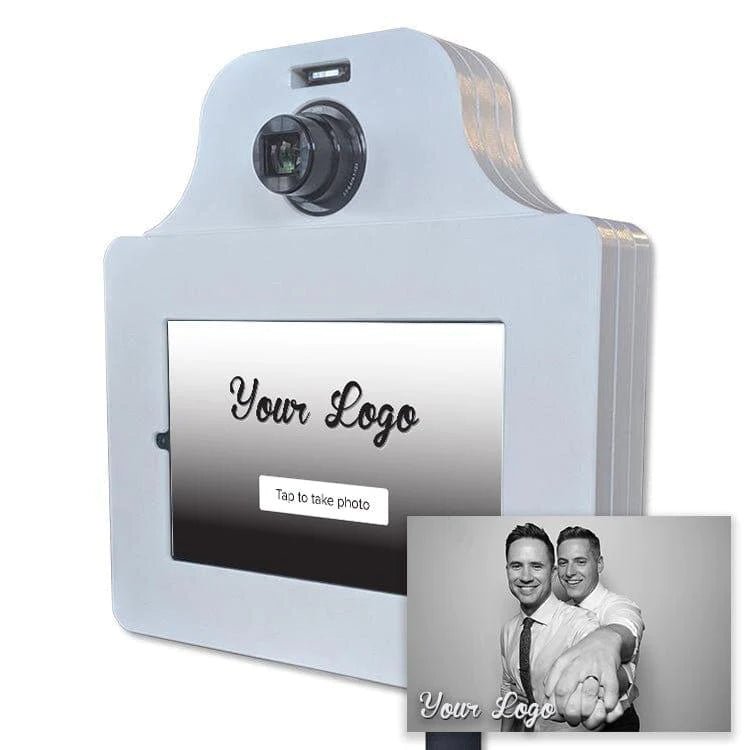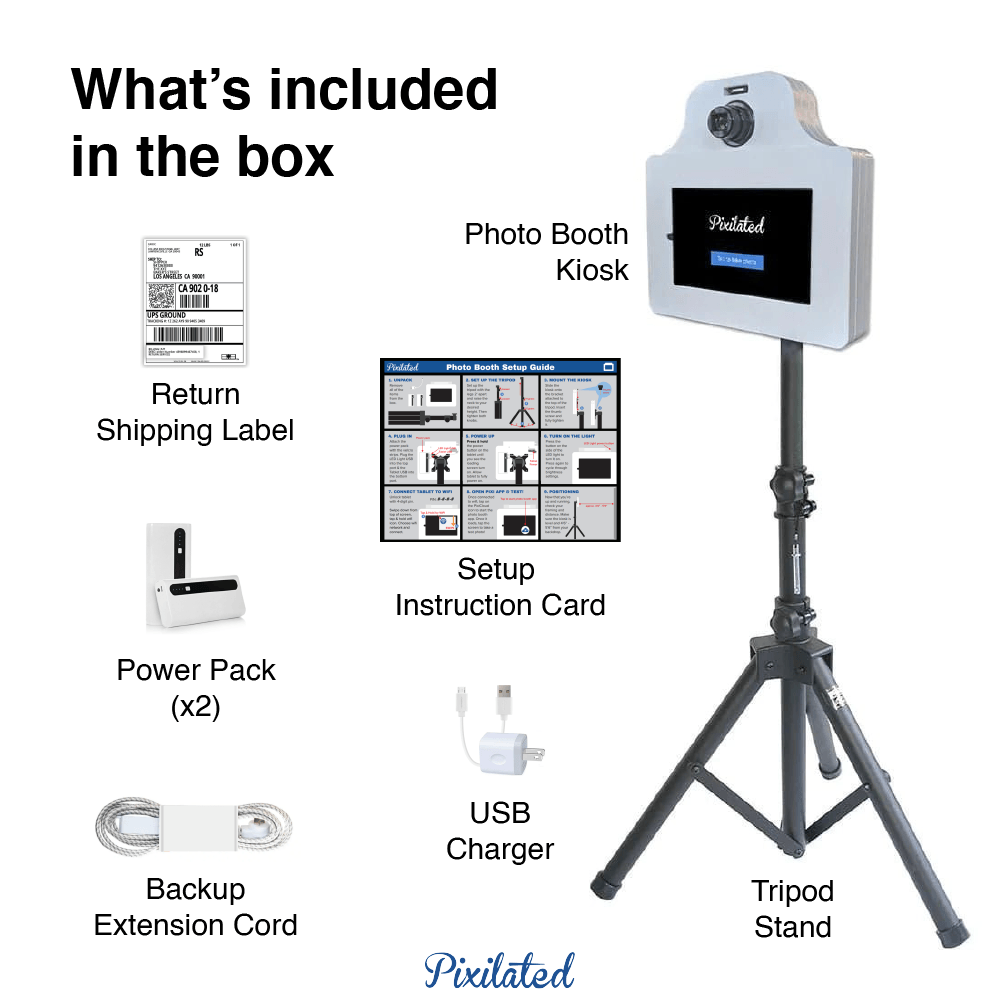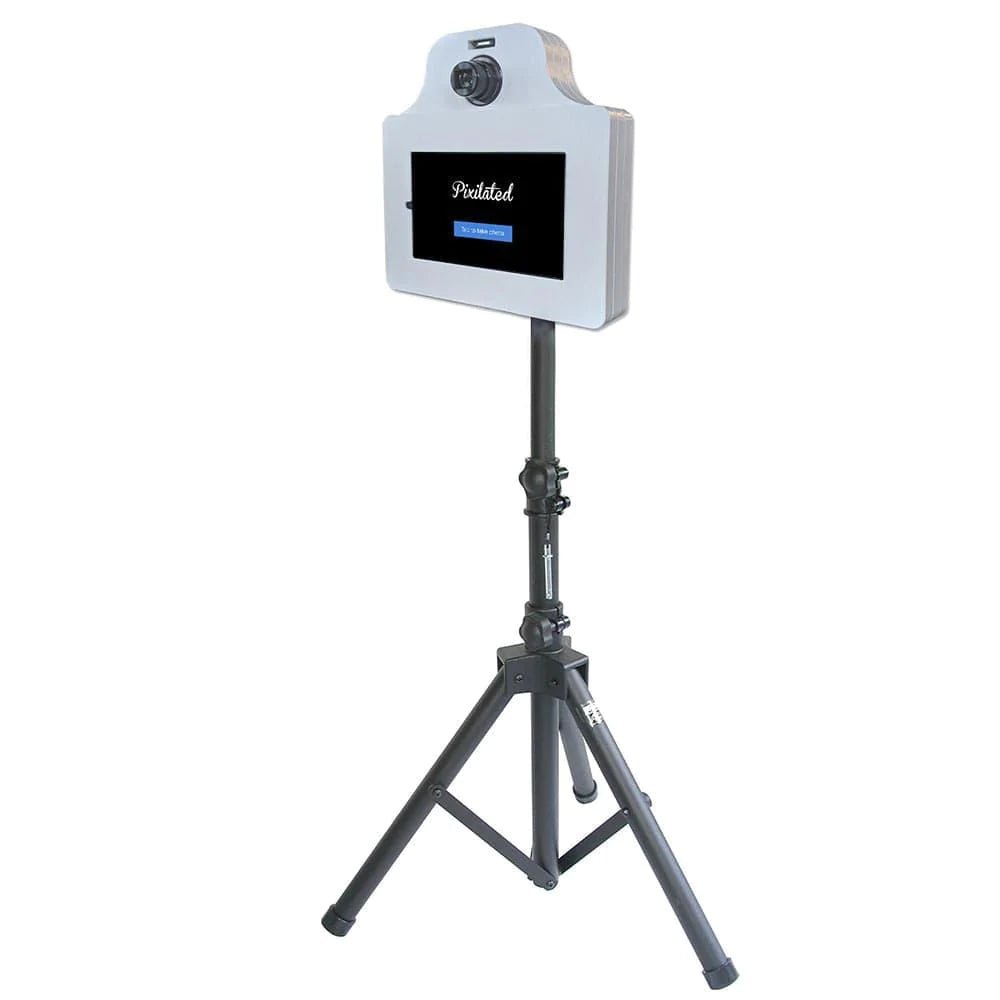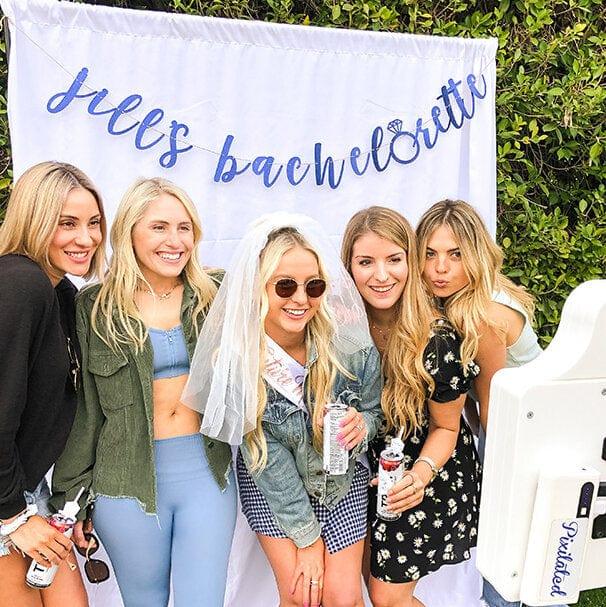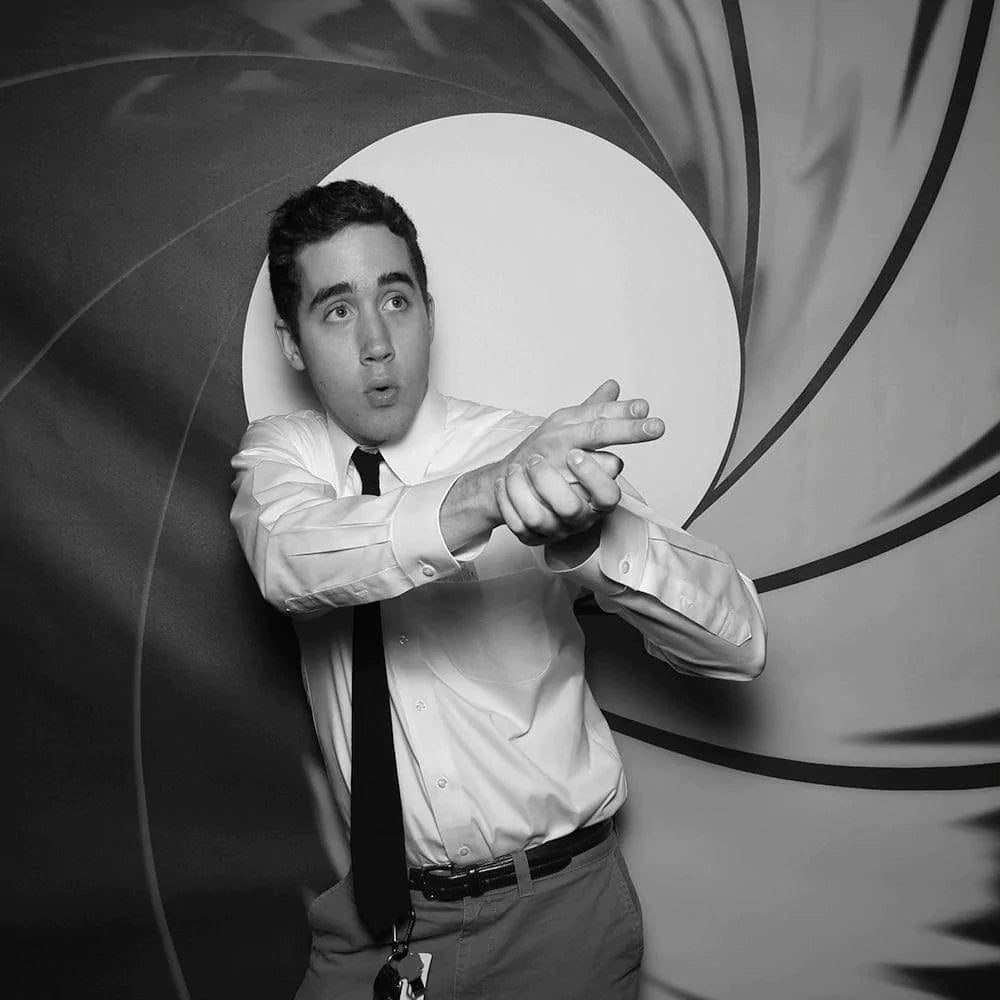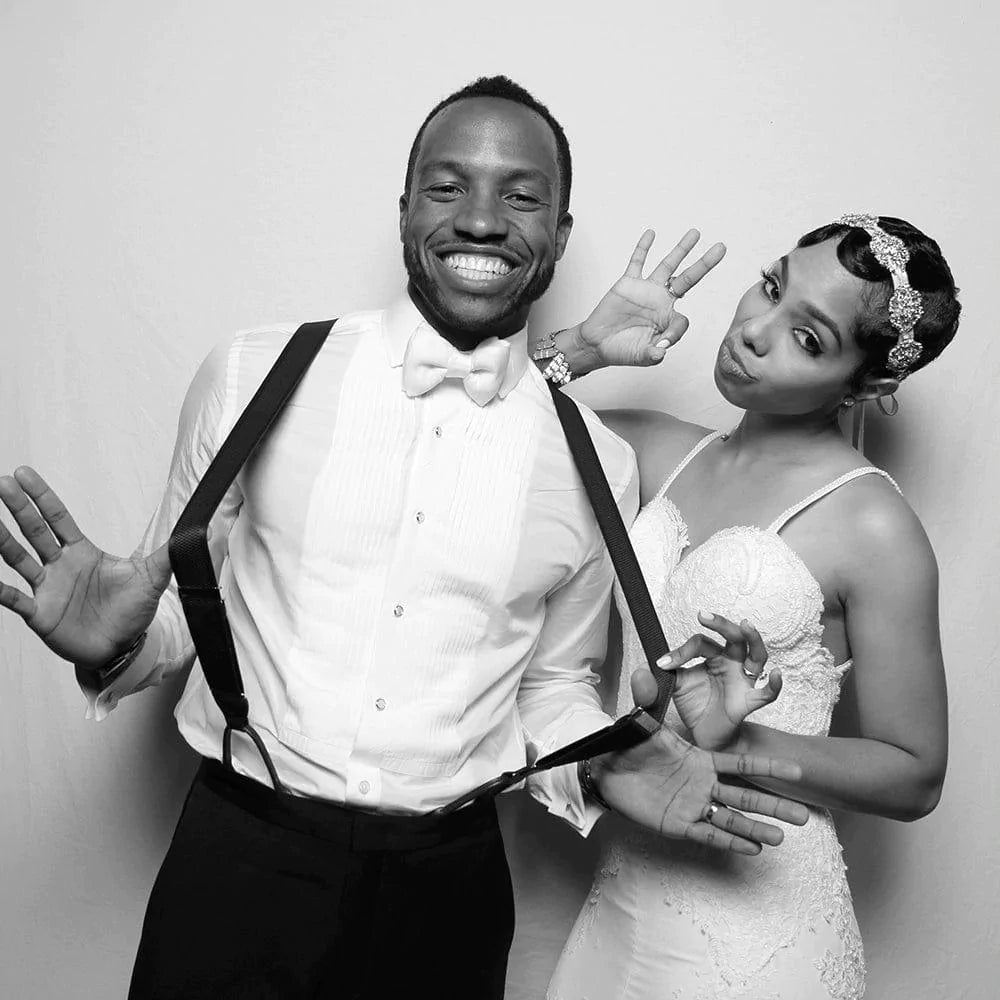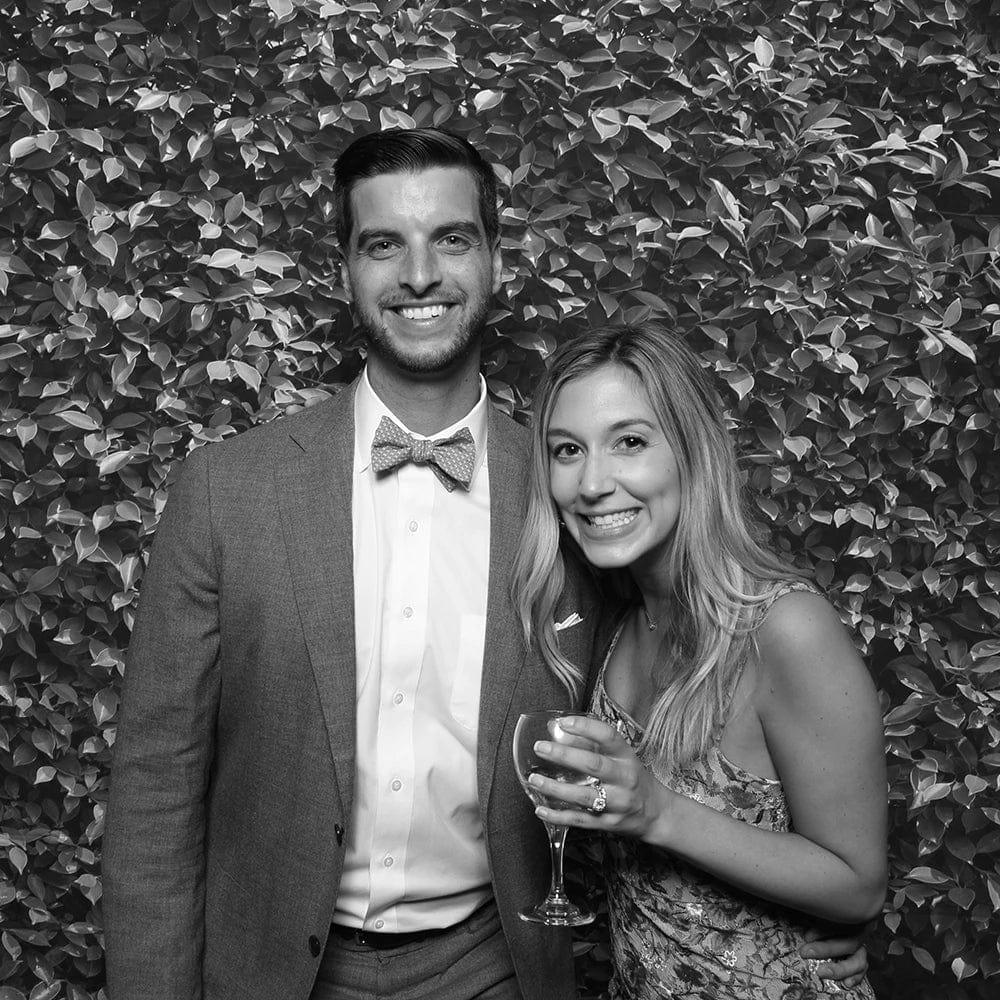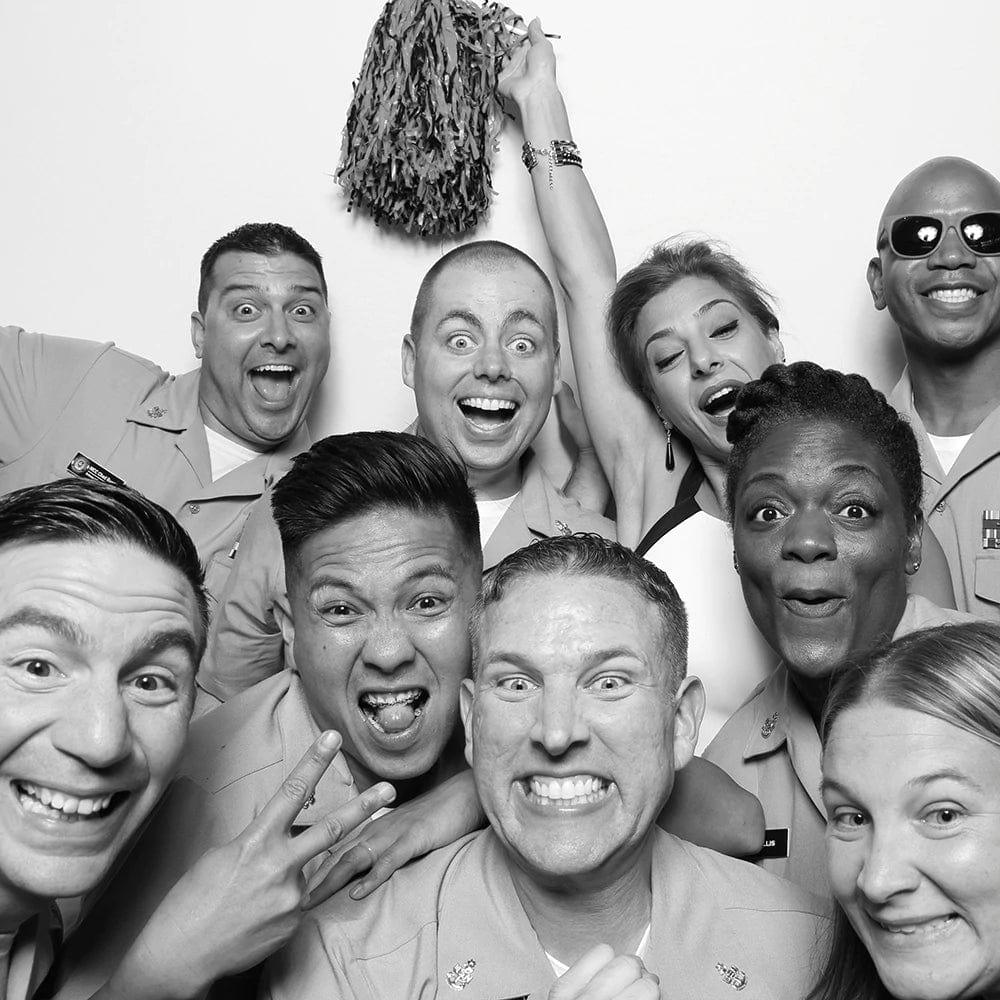 The rental process is simple.
We send it to you

Guaranteed to arrive at least one day prior to your event. Delivered by UPS right to your doorstep. Did we mention shipping is free?

Set it up and use it

Unpack. Assemble. Connect to wifi...then the fun ensues! Snap as many images as your heart desires, arm in arm with your friends, all day (and night)!

Then send it back

The next business day, pack up the equipment in the original box and drop it at the nearest UPS Store. And yes, return shipping is also free.
⭐⭐⭐⭐⭐ 4.9/5 Google Rating
What's in the box? Watch our photo booth unboxing video!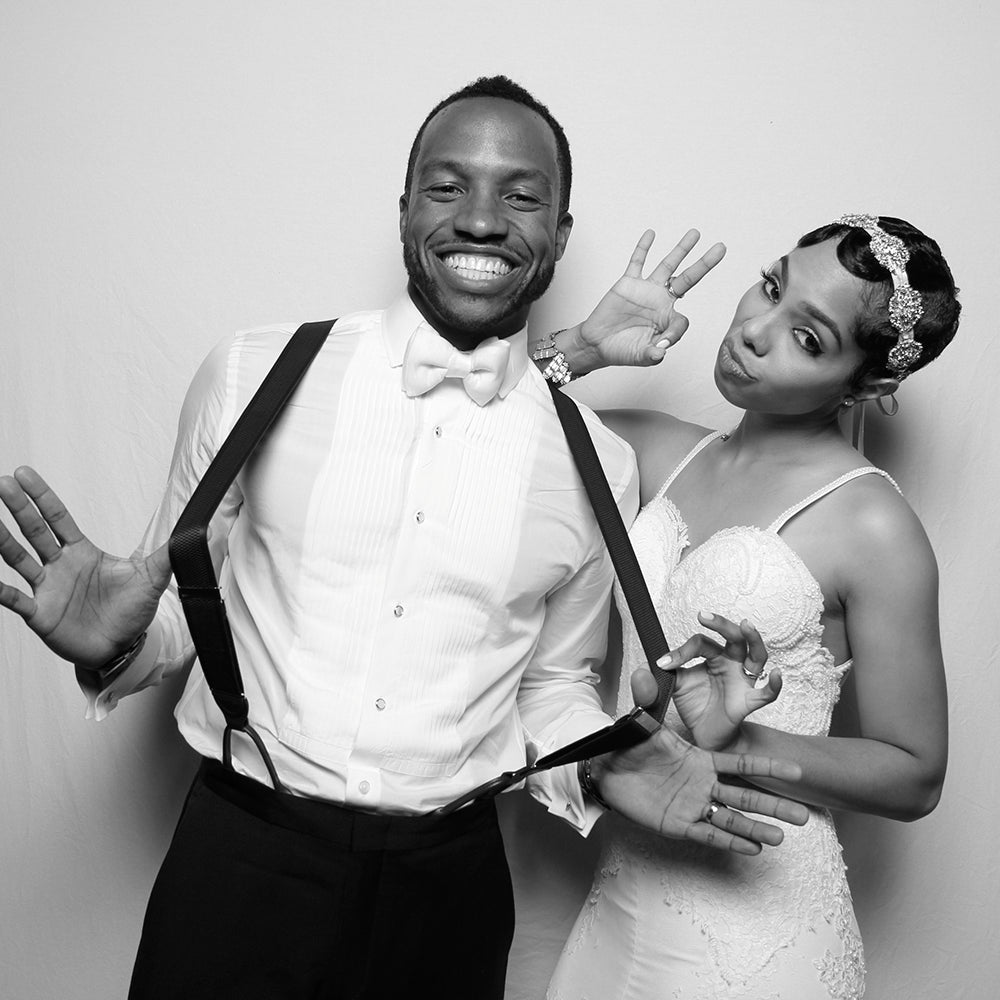 That classic black & white look
Whether it's a black tie wedding, a gala, a masquerade ball, or a James Bond GoldenEye 007-themed party, our black and white photo filter will add that classic, refined touch to your photo booth pictures. Our one-of-a-kind monochrome concept bundles the high-end glam photo booth style in a ready-to-go DIY photo booth kit.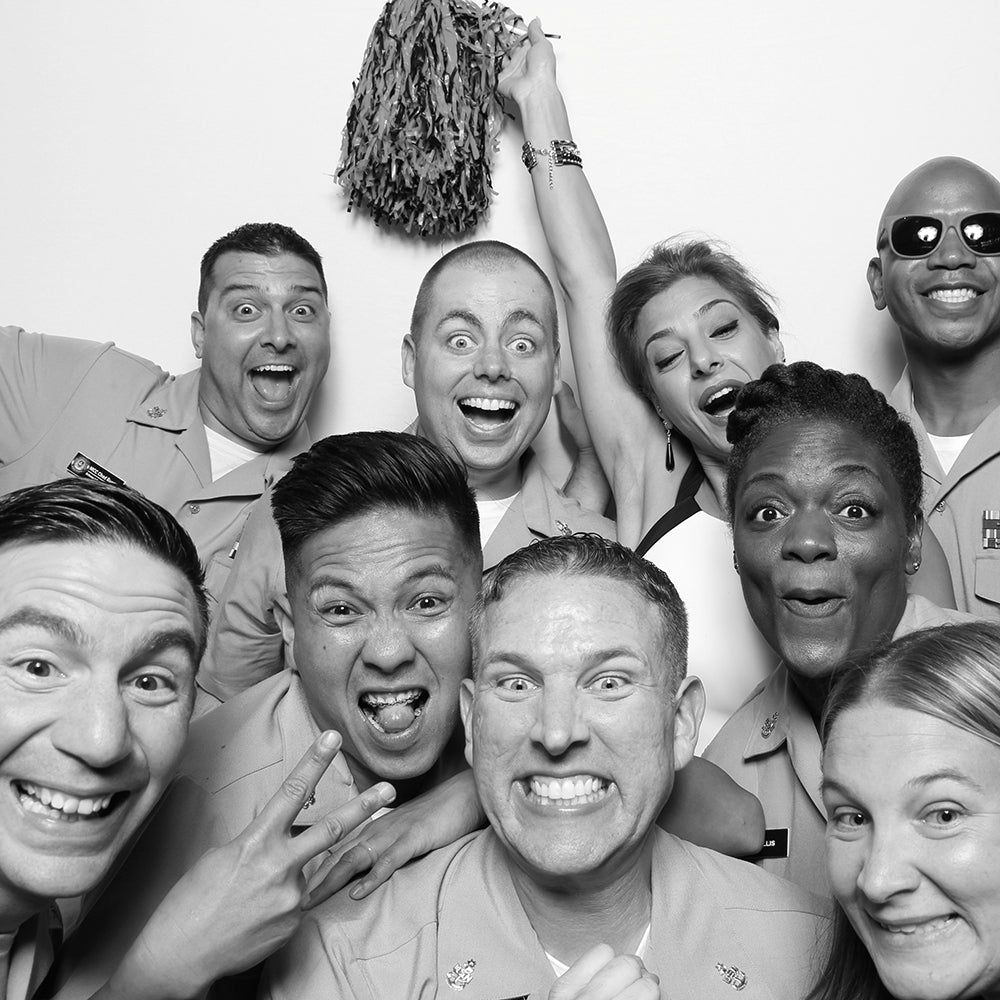 Truly unique
We like to think of our B&W booth as: "The Ansel Adams of photo booths". And we're re-pioneering monochrome photography in the age of digital photo booths. Take your event photo experience to the next level (without breaking the bank) with our DIY black and white photo booth kit. You won't be disappointed.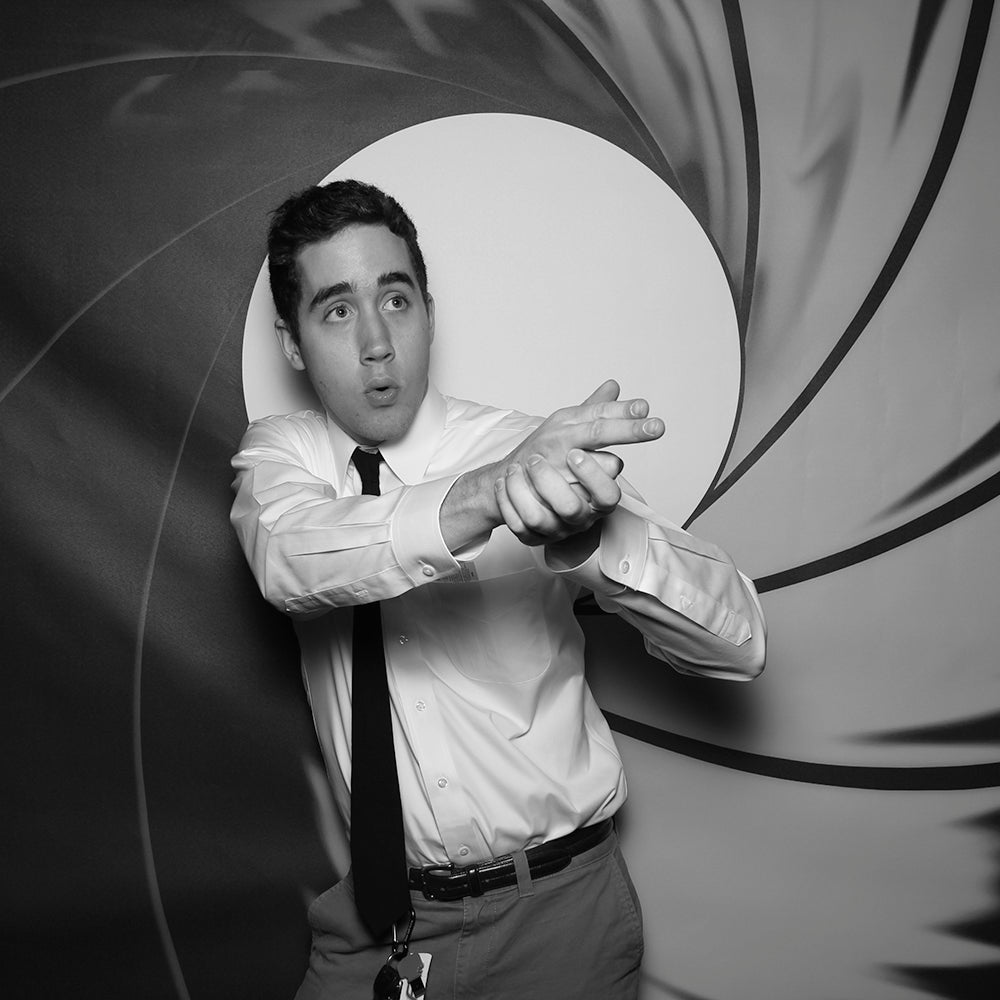 The most stylish photo booth
Stylish. Elegant. Glamorous. Sophisticated. Classy. Chic. Posh. Our B&W filter adds just the right amount of contrast that gives every photo that classic finishing touch. Your guests will LOVE the way they look.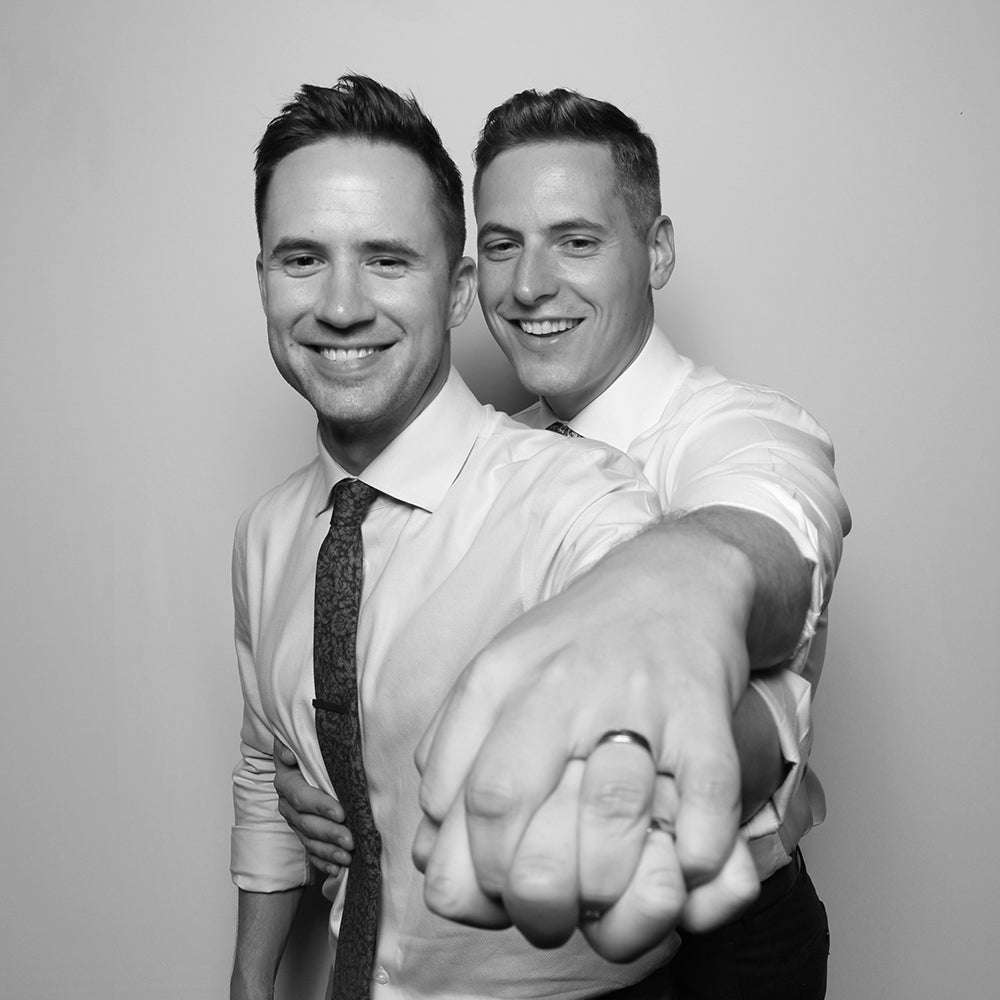 Memories that last a lifetime
We know how important it is to capture amazing memories with your friends and loved ones. That's why we're excited to offer our one-of-a-kind black & white photo booth so you'll be able to take stunning black and white photos that you'll cherish for a lifetime.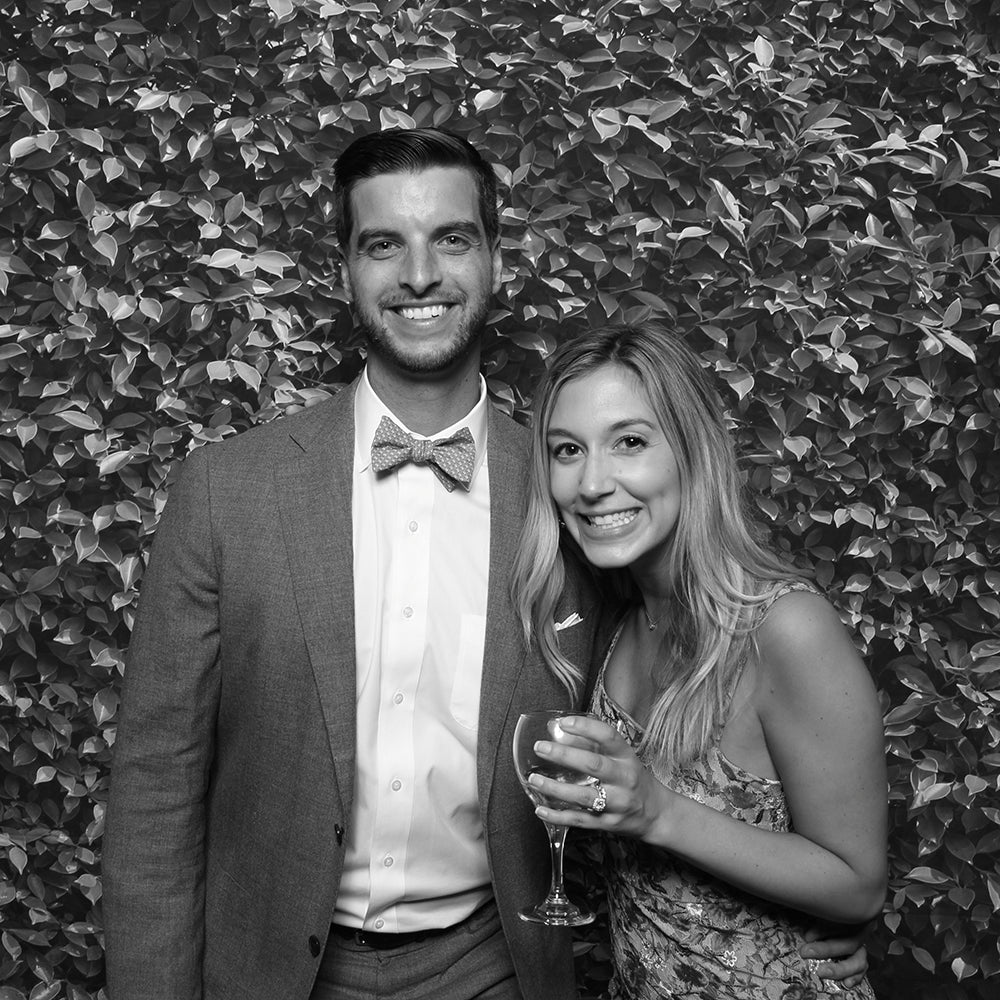 Completely wireless
Great for outdoor events, venues where power access is limited, and to keep your guests safe from tripping over long extension cords. We've created the only battery-powered, wifi-connected photo booth kiosk with a built-in professional camera and flash.