Party Photo Booth Rental
Parties Made Better with Party Photo Booth Rentals!
No more debates about who will have to miss out on being in the group photo and take on the role of being the photographer.
No more precariously learning your phone on the edge of a chair or mantlepiece to try to get a workable photo angle on a frantic self-timer. 
Best of all, no more forgettable photos with guests smiling awkwardly at the camera. 
Instead, bring together your guests with joy and laughter with a Pixilated photo booth rental that will add pizzazz and professional photography to your party!
Our booths are delivered to your door, take five minutes to set up, and are yours for the whole event until you pop them back into their box for an easy, fuss-free return. 
What are you waiting for? Hire a booth and get posing and snapping! 
Unforgettable Memories with a Photo Booth Rental!
Provide a Fun Activity for Guests to Enjoy Together
Nothing brings people together as much as goofing around in a group, pulling funny faces, and laughing infectiously in a no-pressure photo booth environment. 
After all, many a new friend has been made and conversation started over the merits of the mustache prop versus a top hat!
Take Home Physical Memories of the Party
Add the ability to print physical photos for your guests to fight over and take home!
These mementos can be shared with others on the fridge, cherished in an album, or lovingly stored in a box of special memories. 
Digital photo albums are also automatically created with every booth for easy sharing and downloading by every party guest.
Have Props and Backdrops to Add Some Extra Fun to the Pictures
Props serve a fantastic two-in-one function — breaking the ice and smoothing out that natural tendency to stiffen into awkward postures in front of a camera! 
And for a touch of sophistication or sparkle, why not throw a physical backdrop into the mix?
For the wackiest time, check out our green screen option for maximum background flexibility and fun. 
Allow your guests to float in space or put themselves on a serene beach holiday — the choice is theirs!
Customize to Fit the Theme of the Party
With us, you'll be able to add an event theme or brand to your photobooth backdrop – or even overlay a personalized design as a watermark on your photos.
We also have a range of backdrops and prop themes that are customizable on request! Our themes relate to popular holidays and life-stage celebrations such as weddings, birthday parties, Christmas, and more
Our cohesive design approach simply ensures that your booth reinforces and celebrates your party theme in all its glory!
Why Choose Pixilated for Your Parties?
High-Quality Photo Booth Rental
Base or Pro Camera
The difference between Base and Pro Camera options is in photo quality, with recommendations that depend on your event specifications.
The Base Camera takes photos at a resolution of 8MP and is a great, all-around option for those looking for some lighthearted fun at the party.
The Pro Camera, on the other hand, takes photos at a resolution of 18MP. For formal corporate events and highly important life events, this option is the way to go!
Standard or Customized
In the standard package, photo design options are limited to default presets.
This option is great for a casual event where the main goal is to have fun, or where there's no specific theme. If you're looking for more control, however, it's time to look at our customized option.
With this, you have all the power to integrate your own custom backdrops and watermarks — perfect if you're gunning for sophistication or organizing a themed event!
Wide Variety of Packages
Standard Photo Booth
The DIY photo booth is the classic option that takes full-color photos in whichever real-life background you set up. 
GIF Booth
Create fun moments to share online with a refreshing take on static mementos! Our animated GIF photo booth stack still photos and turn them into a moving, looping, animated format — a fantastic choice in the age of the internet.
Green Screen Booth
If you want your guests to magically change their background with a single click and enjoy their wild amazement and laughter, then the green screen booth is the option for you!
Watch as your guests unleash their creative side as they choose backgrounds that suit their outfits and strike poses that match the scene. 
Whatever they decide to do, one thing's for sure — the experience is something they'll never forget!
Black & White Booth
For maximum sophistication and flattering photos, look no further than our black & white booths.
Our high-quality, monochrome filter perfectly unifies groups in a photo and adds a touch of mystique, elegance, and classiness to your event photographs.
Extras & Add-Ons!
Our set packages are already excellent, but they can be even better. Build on the classic photo booth experience by adding extras and other add-ons that reflect your creative tastes and sensibilities!
Whether it's a sequin backdrop, spooky Halloween props, or even just prints to go with your thank-you notes, you'll be spoiled for choice at our online shop.
5-Minute Setup Process
Once you've cleared out or decorated the designated photography area, the only thing left to do is set up the booth. 
The entire process is so straightforward, you'll be done in the time it takes to brew a cup of coffee!
Our booths run on durable batteries (with spares included!) and have an in-built light setup. No extra lighting or cabling maneuvers required!
No Mess
Other party activities (and photo booths) involve arduous clean-up that kills the buzz after a great night. 
Luckily for you, our booths create no mess, and each part quickly packs right back into the same box it was delivered in. Simple!
No Rush!
Say goodbye to complex calculations about hiring times, pick-ups, and drop-offs that make event planning needlessly stressful. 
Each booth is hired at a flat price for a full 24-hour period – giving you plenty of time to set up, enjoy your party, and send the kit right back. It's simple and stress-free!
Serving the Entire United States
Our booth kits are available in over 100 locations across the country and are delivered for free when booked at least a week in advance.  
No matter where your party is, you'll enjoy our smooth, quick delivery and widespread availability. 
How It Works
Choose Your Booth and Slap on Some Add Ons
Gone are the days when you had to call a company just to get a quote. We know you hate that — we do too! 
That's why choosing the perfect Pixilated DIY photo booth kit for your party is a breeze. Simply navigate to your preferred kit, select your camera and design, tell us your event details, and proceed to check out!
Got your eye on some extras and add-ons? Adding them to your cart is easy as well! Enjoy your selection of custom props, backgrounds, and more with just a click of a finger.
Once you're ready, make your payment – and the booth will be on its way to you! Yep, it's that easy and straightforward.
Receive Your Parcel…and Let the Photo-Fun Begin!
You're guaranteed to receive your kit at least a day before your scheduled event.
Here at Pixilated, we promise that you'll never have to worry when you book with us. 
Event planning itself is already stressful, and we're more than happy to remove some of that burden off your plate!
On your special day, set up the booth in as little as five minutes using the easy-to-follow instruction card. All that's left to do is strike a pose, beam your biggest smile, and snap the night away!
Send It Right Back
Once the fun is done, pack everything back into the box and attach the return label. Drop off the parcel at your local UPS and cherish the stress-free memories!
Have Memories to Keep with Party Photo Booth Rentals! 
In this fast-paced world, it's a challenge to slow down and cherish the special moments when we come together and celebrate. 
Make sure to preserve the memory and bring endless smiles and laughter to your family, friends, and other guests with Pixilated photo booths!
With us, you'll be able to make the moment last forever and leave with fun photos to look back on and relive for many, many years to come.
Got an event coming up? Book your Pixilated photo booth kit today!
 Book a photo booth for your party today!
Not looking for photo booth for your party? Pixilated also specializes in:
Photo Booth Rental Options
See what our happy clients have to say
Our photo booth rental kits are available everywhere in the United States
We ship the kit to you

Guaranteed to arrive at least one day prior to your event. Includes everything you need. Delivered by UPS right to your doorstep. Free shipping.

You set it up and take photos

Unpack. Assemble. Connect to wifi...then the fun ensues! Snap as many images as your heart desires, arm in arm with your friends, all day (and night)!

Then you send it back to us

The next business day following your event, pack up the equipment in the original box and drop it at the nearest UPS Store. Free shipping, again.
What's included in the photo booth kit?
More affordable, more flexible, more customizable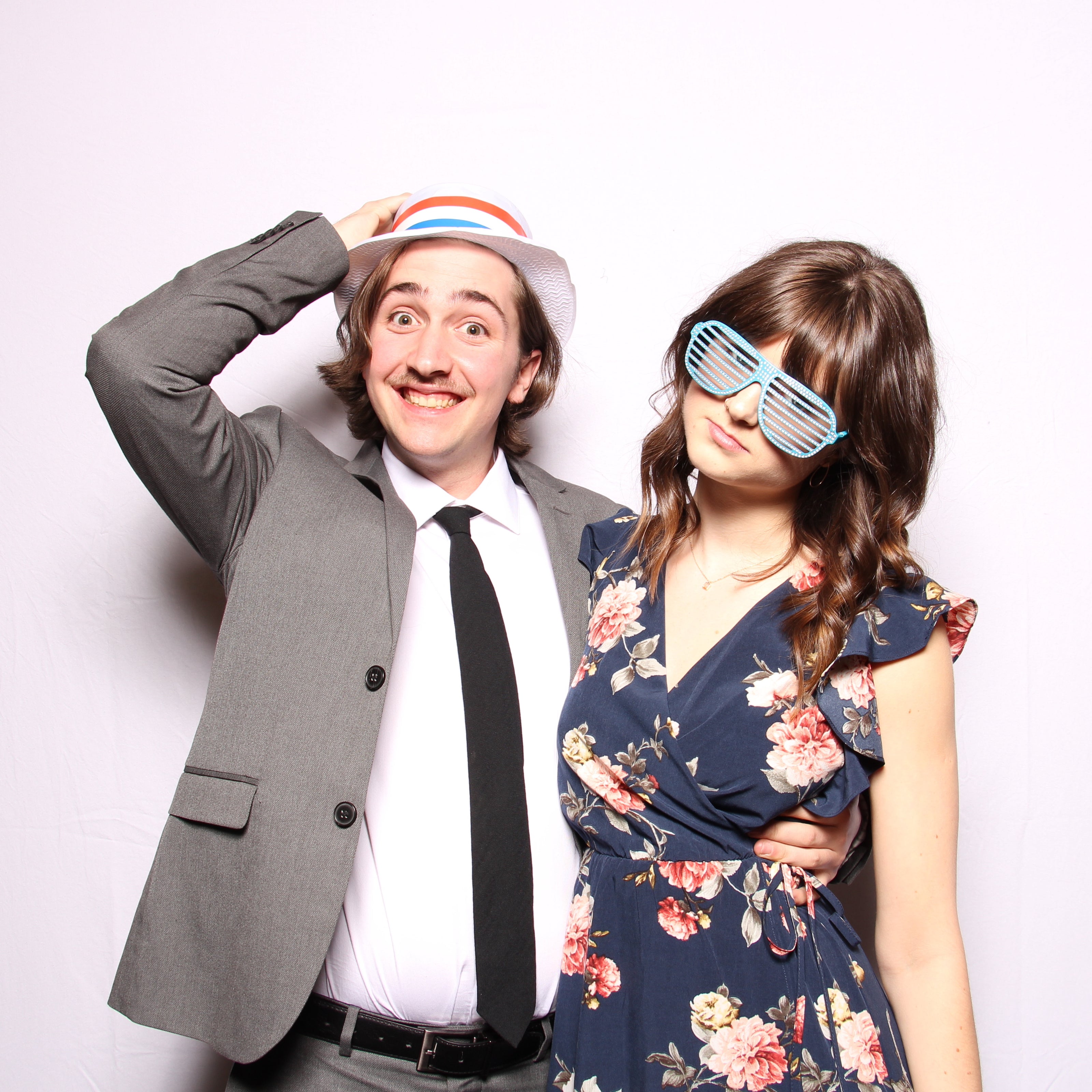 1. Fast, easy online booking

Just choose your desired options, add to cart and checkout
2. Free, reliable delivery

Guaranteed to arrive minimum one day prior to your event
3. Works right out of the box

Takes 5 minutes to set up, even for my grandpa :)
4. Compact and portable

The entire package is 24" x 24" x 10" and weighs less than 25 lbs, including the stand
5. Completely wireless

Runs on a battery pack, and comes with a backup just in case
6. Great photos, no photographer needed

Upgrade to our 18MP smart camera for awesome quality
7. The most affordable

The cheapest photo booth rental on the market…in price, not quality ;)
8. Rent by the day, not the hour

Who are we to tell you when the party ends!?
9. Awesome personalization options

Create your perfect experience with GIFs, green screens, monochromatic photos, themes, frames, and more!
10. Simple guest experience

No need for an expensive attendant adding to your already over-budget headcount...our booths are DIY and super easy to use!
Pixilated Photo Booth
Office Hours

9:00AM - 5:00PM ET

Monday - Friday
Frequently Asked Questions
How much space is required?

If you do not plan to set up a backdrop, the kiosk itself takes up a 3' x 3' footprint.

If you plan to set up a backdrop, it depends on the width, but usually around 8' x 8' will suffice.
Do I need WiFi?

Ideally, you'll connect your booth to WiFi so your guests can send themselves their images instantly through email or text message.

If you don't have on-site WiFi or a hotspot, your photos will get stored in an "offline queue" until the device gets connected to a network. At that time, all images will instantly get sent.
When will my booth be delivered?

We'll ship it to you so you have it at least one business day prior to your event date.

Need it sooner? Contact us
Can I book over the phone?

Need help making decisions?

Call us at 888-902-0054 and we can help you with your booking over the phone.
How long can I use my rental?

Our booths rent by the day, not the hour…so you can use it for up to 24 hours!

If you purchase additional days, each added day is equal to a 24-hour time block.
Do I need a power source?

No!

We provide two battery packs that will last up to 8 hours (4 hours each) and can be recharged for continuous usage.

No messy cords. No trip hazards. No problems!
Do I need to set up lighting?

No, both of our camera options have a lighting source.

The Base 8MP camera has a LED light source attached with different brightness settings.

The Pro 18MP camera has a built in smart flash that will adjust to the lighting automatically no matter the environment. This is the best option for venues that are dimly lit.

All that said, any photographer knows that good light is the key to great photos, so if you can find a spot that naturally has good lighting, that'll be the cherry on top!
How far in advance do I need to place my order to take advantage of free ground shipping?

We guarantee free shipping for events that are a minimum 7 days away.

Contact us if you have a rush order!
How do I return my booth after my event?

Within one business day after your event, you'll repack it in the same box that it was delivered in, place the return label on the box, and take it to any UPS drop-off location. That's it!
How do guests get their images?

After each photo session, your guests can email or text their pictures to up to 5 people.
What's the difference between the "Base 8MP" camera and the "Pro 18MP" camera?

The Pro 18MP camera takes really crisp high-resolution photos and works great in every lighting scenario.

The Base 8MP camera is is the better option if you're on a budget.
What is the difference between the design options "Standard" and "Customized"?

Standard design includes our classic booth interface without any customization options, like logos, graphics or frames. This is a great option if you have a busy backdrop or are going for a clean, classic look.

Customized design allows you to use our templates or to work with our designers to create your very own branded booth experience. Great for wedding themes and monograms, or to add logos.
Can the GIF booth also take regular photos?

You bet!

Our GIF Booth gives you the option to choose to take a photo or a GIF. There is a button on the left that says Tap for Photo and a button on the right that says Tap for GIF.
For the Green Screen Booth, is the physical green screen included?

Yes, we provide you with a green screen (chroma key) backdrop that includes the stand.