Photo Booth Rentals for Galas and Fundraisers
Picture Perfect Memories: Photo Booth Rentals for Your Next Gala or Fundraiser Event!
Memories are here one moment and gone the next. 
Make sure to hold on to the moments as long as you can and rent a photo booth with Pixilated for your gala and fundraiser! 
Our state-of-the-art yet straightforward booths drum up massive buzz for your cause and allow everyone to have fun along the way. 
Whatever the theme of your event, our wide range of fully customizable and user-friendly photo booths is the perfect addition. 
Capture everyone's quirky and comical moments as personal keepsakes or attractive promotional material. Book your self-service photo booth now and get the ball rolling!
Put the Fun in Fundraiser with Photo Booth Rentals!
Fundraising events and galas can become quite formal and stifling if you're not careful. 
Add a photo booth rental kit to the mix, and you'll see everyone start to loosen up! It's fun, gives people something exciting to do, and makes your cause much more memorable in peoples' minds.
Provides a Fun and Interactive Activity for Guests
Break up the awkward silence by ushering guests to the photo booth from the very beginning! 
There's nothing like an interactive activity to break the ice; chatting, drinking, and eating canapes only go so far!
Encourages Guests to Socialize and Network with Each Other
Galas and fundraisers are prime networking locations. Essentially, they're a giant, informal business meeting!
Having a lighthearted activity to bond over can get those important social conversations started, pronto.
With our top-notch quality, choosing Pixilated for your next gala and fundraiser is a no-brainer.
Creates a Memorable Experience for Guests to Associate with the Event
We remember parties by their highlights. Make the entire event something utterly unforgettable with high-quality photos and a unique photo booth experience! 
Go with Pixilated, and let your fundraiser become known as "the one with the photo booth".
Generates Additional Funds through Photo Booth Rental Fees or Donations
Photo booths are a major attraction whatever type of fundraising event you might be holding. 
Turn it into another source of funding by having guests pitch in to pay for the booth or asking them to pay a little charge for some gorgeous photos. 
Even better – get your attendees to donate to your cause!
Can Be Customized with Event Branding or Sponsor Logos for Added Exposure
Your branding and those of your sponsors are crucial as they help people recognize who you are and what you represent.
Show your appreciation and honor those who have contributed to your cause by adding their logos to your event photos!
Provides a Physical Keepsake for Guests to Take Home and Remember the Event
Having a cute souvenir to stick onto a fridge is an easy way to make sure that guests will remember your function!
And as for the hosts, having photos of the event is a little piece of advertising, connecting their brand to you. It's a win-win situation for everyone!
Can Be Used for Social Media Marketing and Promotion
Social media is now the place to share what you've been up to. 
Posting pictures of galas or fundraisers shows that you're entertaining, have put in the effort, and have a little bit special something to flaunt to others!
Why Choose Pixilated for Your Galas and Fundraisers? 
Galas and fundraisers are meant to be special moments for everyone involved. 
When renting a photo booth to pair with the occasion, it's important to partner with a service that's simple and straightforward while still offering gorgeous, high-quality photos. 
High-Quality Photo Booth Rental
Photo booths that have all the bells and whistles are useless if they don't get the basics right: being able to produce high-quality photos! 
Here at Pixilated, this is one aspect where we're extremely proud to be at the top of our industry.
Base or Pro Camera
Our kits come with a default Base camera that does the job and does it well. 
Looking for something so sharp that guests will see every detail of their faces, poses, and attire? Upgrade to our 18 MP Pro camera, our top-of-the-line offering that you won't regret!
Standard or Customized
For a smaller gathering, the no-nonsense experience that our standard rentals offer won't disappoint. 
However, if you have a wider reach and want to show off your branding, go for our customized booths that allow you to add a logo or watermark to your photos.
Wide Variety of Packages
Wherever and whatever the party is, there's always a sleek Pixilated photo booth to pair it with! We offer GIF photo booths, green screen photo booths and even black and white photo booths along with many more.
Plan the entire experience around a central theme and watch as your guests gush over how cohesive every detail of your fundraiser and gala is.
Photo Booth
Classic, standard, original — call it whatever you like, because you're going to like it! 
Our classic photo booth is clean and compact, and simple enough that just a touch of the screen will give guests a quality, HD picture.
GIF Booth
Capture personality through motion with our one-of-a-kind GIF booths!
Compile wacky stills into a dynamic memento guaranteed to produce plenty of laughter at your event.
Green Screen Booth
Go anywhere and do anything, all from the safety of your event space! 
Rent our green screen photobooth and recreate as many ridiculous and memorable scenes as you want. Really, your imagination is the only limit.
Black & White Booth
Perhaps you're feeling classy, or maybe your event has an emotional, moving undertone. 
In that case, our glam black and white photobooth provides an atmospheric and minimalist feel that evokes a sense of timelessness. Trust us, monochrome is never a bad idea.
Extras & Add-Ons!
Picture your booth – Right now, it has a camera, a tripod, and maybe even a background. 
You know what would elevate the experience? That's right: a set of classy backdrops and quirky props that match the event's mood and vibe! 
Wondering where to get these? Browse through our website for your choice of custom add-ons, and then some!
5-Minute Setup Process
Your guests are lining up outside, pounding on the door. 
Uh-oh – No one set up the booth yet! Luckily, Pixilated photo booths only take one person and 5 minutes to be up, running, and ready to go.
No Mess
Even the most minimalist of parties will enjoy our photo booths due to just how neat and compact they are. 
You won't have to worry about tripping up excited guests as our booths simply don't have any wires or cables whatsoever!
No Rush!
Whoever came up with the concept of "rent by the hour" obviously didn't care about stressed party planners. 
We know how hard it is to whisk a photo booth away only a short time after you've set it all up.
We offer something much better — booking a Pixilated booth means it's yours the whole day!
Serving All 50 States
From East Coast to the West, we'll happily serve you with the best photo booth experience you'll ever have! 
If you're in the lower 48 states, we'll even ship the kit to you for free! Don't worry, Hawaii and Alaska patrons are still a high priority – there's just a teeny-tiny bit of extra charge involved.
How It Works
Make Your Pick
For your next event, start by choosing the perfect kit from our four booth packages. 
Add on props, backdrops, or extra rental days depending on your needs and budget!
Receive and Unbox
Sit back and relax knowing that your kit will arrive in a neat box at least a day before your special day! 
What's inside? Peep the contents and you'll find a camera kiosk, tripod, battery packs, as well as the extras you've opted for.
Set Up and Use 
We've included an instruction card with every kit, so it's really as simple as following those when you're setting your booth up!
After just 5 minutes, the booth will be ready to go — there's nothing crazy or complex about the process at all. 
And once it's up and running, simply tap the screen and follow the instructions to take the first photo!
Pack Up and Return
After your awesome event, what we need back from you is the camera kiosk, tripod, and battery packs (as well as any other extras you may have hired). 
Pack them into a box (the original, if you still have it) and drop them off at your local UPS. We'll handle it from there!
After the event, you can even purchase and order prints of all the photos you took on the day.
Make Your Next Gala and Fundraiser a Success with Our Professional Photo Booth Rentals! 
Galas and fundraisers are cornerstones of successful campaigns. They work to raise awareness, bring like-minded people into one room, and raise money for an important cause.
Adding a photo booth to the mix will help loosen up your guests, spread the word about your brand, and make your message memorable. 
Plus, it's a whole lot of fun! 
Whether your event is casual or formal, charity or business, we've got something tasteful for the occasion. Browse our excellent range of photo booths, customizations, and add-ons for your next function!
Book now to lock in a good time for a good cause!
Book a photo booth for your fundraiser today!
Not looking for photo booth for your fundraiser? Pixilated also specializes in:
Photo Booth Rental Options
See what our happy clients have to say
Our photo booth rental kits are available everywhere in the United States
We ship the kit to you

Guaranteed to arrive at least one day prior to your event. Includes everything you need. Delivered by UPS right to your doorstep. Free shipping.

You set it up and take photos

Unpack. Assemble. Connect to wifi...then the fun ensues! Snap as many images as your heart desires, arm in arm with your friends, all day (and night)!

Then you send it back to us

The next business day following your event, pack up the equipment in the original box and drop it at the nearest UPS Store. Free shipping, again.
What's included in the photo booth kit?
More affordable, more flexible, more customizable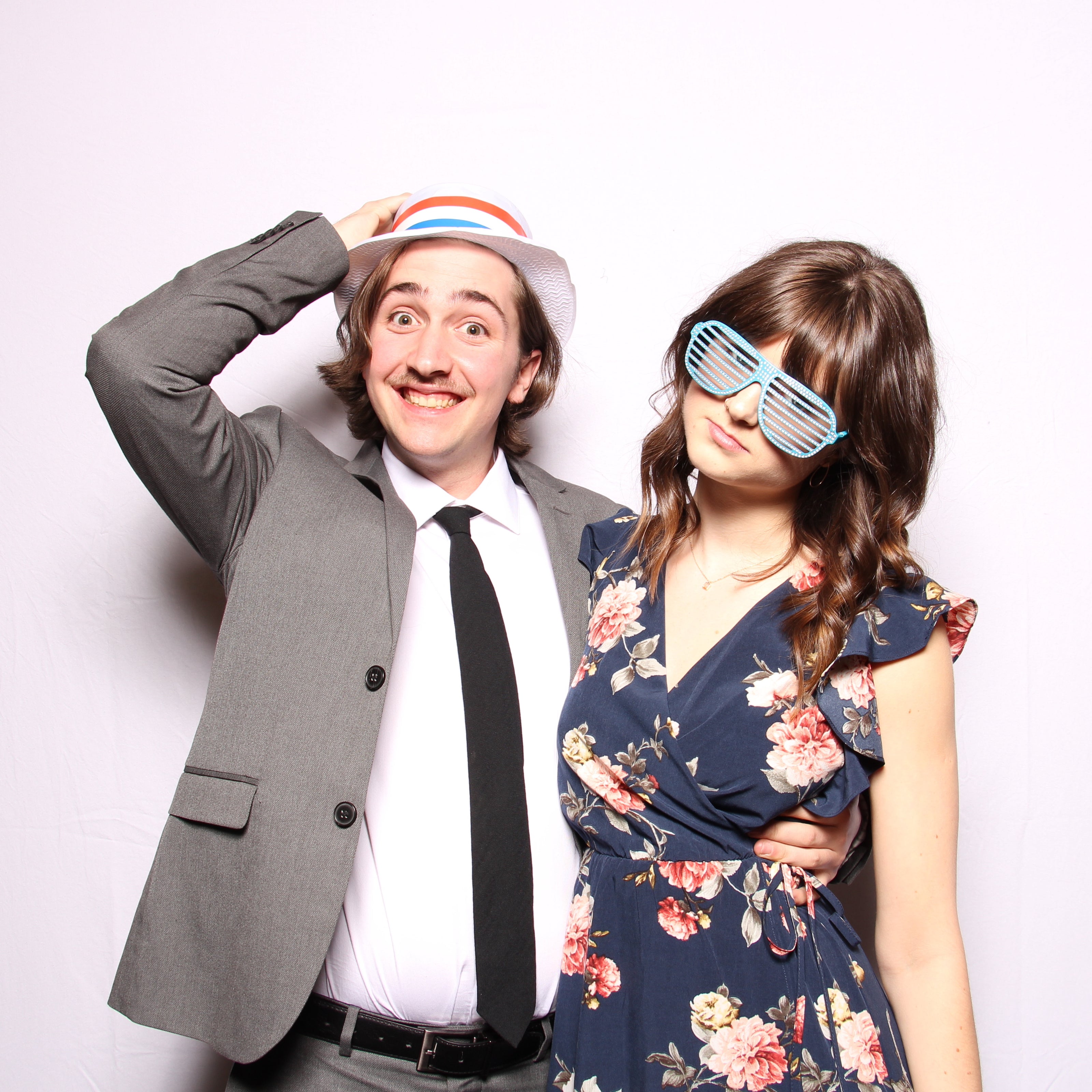 1. Fast, easy online booking

Just choose your desired options, add to cart and checkout
2. Free, reliable delivery

Guaranteed to arrive minimum one day prior to your event
3. Works right out of the box

Takes 5 minutes to set up, even for my grandpa :)
4. Compact and portable

The entire package is 24" x 24" x 10" and weighs less than 25 lbs, including the stand
5. Completely wireless

Runs on a battery pack, and comes with a backup just in case
6. Great photos, no photographer needed

Upgrade to our 18MP smart camera for awesome quality
7. The most affordable

The cheapest photo booth rental on the market…in price, not quality ;)
8. Rent by the day, not the hour

Who are we to tell you when the party ends!?
9. Awesome personalization options

Create your perfect experience with GIFs, green screens, monochromatic photos, themes, frames, and more!
10. Simple guest experience

No need for an expensive attendant adding to your already over-budget headcount...our booths are DIY and super easy to use!
Pixilated Photo Booth
Office Hours

9:00AM - 5:00PM ET

Monday - Friday
Frequently Asked Questions
How much space is required?

If you do not plan to set up a backdrop, the kiosk itself takes up a 3' x 3' footprint.

If you plan to set up a backdrop, it depends on the width, but usually around 8' x 8' will suffice.
Do I need WiFi?

Ideally, you'll connect your booth to WiFi so your guests can send themselves their images instantly through email or text message.

If you don't have on-site WiFi or a hotspot, your photos will get stored in an "offline queue" until the device gets connected to a network. At that time, all images will instantly get sent.
When will my booth be delivered?

We'll ship it to you so you have it at least one business day prior to your event date.

Need it sooner? Contact us
Can I book over the phone?

Need help making decisions?

Call us at 888-902-0054 and we can help you with your booking over the phone.
How long can I use my rental?

Our booths rent by the day, not the hour…so you can use it for up to 24 hours!

If you purchase additional days, each added day is equal to a 24-hour time block.
Do I need a power source?

No!

We provide two battery packs that will last up to 8 hours (4 hours each) and can be recharged for continuous usage.

No messy cords. No trip hazards. No problems!
Do I need to set up lighting?

No, both of our camera options have a lighting source.

The Base 8MP camera has a LED light source attached with different brightness settings.

The Pro 18MP camera has a built in smart flash that will adjust to the lighting automatically no matter the environment. This is the best option for venues that are dimly lit.

All that said, any photographer knows that good light is the key to great photos, so if you can find a spot that naturally has good lighting, that'll be the cherry on top!
How far in advance do I need to place my order to take advantage of free ground shipping?

We guarantee free shipping for events that are a minimum 7 days away.

Contact us if you have a rush order!
How do I return my booth after my event?

Within one business day after your event, you'll repack it in the same box that it was delivered in, place the return label on the box, and take it to any UPS drop-off location. That's it!
How do guests get their images?

After each photo session, your guests can email or text their pictures to up to 5 people.
What's the difference between the "Base 8MP" camera and the "Pro 18MP" camera?

The Pro 18MP camera takes really crisp high-resolution photos and works great in every lighting scenario.

The Base 8MP camera is is the better option if you're on a budget.
What is the difference between the design options "Standard" and "Customized"?

Standard design includes our classic booth interface without any customization options, like logos, graphics or frames. This is a great option if you have a busy backdrop or are going for a clean, classic look.

Customized design allows you to use our templates or to work with our designers to create your very own branded booth experience. Great for wedding themes and monograms, or to add logos.
Can the GIF booth also take regular photos?

You bet!

Our GIF Booth gives you the option to choose to take a photo or a GIF. There is a button on the left that says Tap for Photo and a button on the right that says Tap for GIF.
For the Green Screen Booth, is the physical green screen included?

Yes, we provide you with a green screen (chroma key) backdrop that includes the stand.