Event Photo Booth Rental



Be the Life of the Party with Event Photo Booth Rentals!
Have you ever been to an awkward party? 
Picture the scene: strangers milling around an event hall and bobbing uncomfortably to the music while gripping their drinks. 
That nightmare scenario needs a savior – a fun activity, like a photo booth!
Luckily for you, Pixilated has just what you need. 
Our range of customizable DIY photo booth rentals elevates the party and gives your guests something unique to enjoy! 
Break the awkward silence and get the party started with the help of a high-quality DIY photo booth kit. Book yours today!
Lifetime Memories with an Event Photo Booth Rental!
A party can linger for just one night – or it can last forever in your mind! By taking lots of photos at your event, everyone will have something to fondly look back on. 
At the very least, you'll be able to have a laugh at how everyone dressed up!
Gets the Party Started by Encouraging Guests to Mingle and Make New Friends
 Arriving at an event where you don't know many people is intimidating, to say the least. 
Break the ice and loosen up the moment with a photo booth and quirky props to boot!
Soon enough, everyone will be enjoying a lighthearted atmosphere and making new friends.
Provides an Entertaining Activity That's Sure to Get Guests Giggling and Striking a Pose
The very nature of photo booths is to take silly photos – so naturally, your guests will beam their brightest smiles. 
Having a booth at your event will bring people together and showcase their wild and wacky personalities, even if it's their first time meeting!
Lets Guests Capture Fun and Candid Memories That They'll Cherish Forever
Everybody likes a party favor. Giving guests photos they will treasure forever is a great send-off at the end of an event!
With the digitally-sent photos, your zero-waste souvenirs will also be great for the environment.
Offers a Customizable Experience That's as Unique and Quirky as the Event Itself
All events –  formal or casual – will carry their own unique, unmistakable flair. Having a photo booth around will make your guests treasure the silly parts of the occasion even more! 
Events such as costume parties, your best friends' birthdays, or high school reunions guarantee some seriously silly photo booth antics!
Can Be Used to Show Off Your Brand's Fun and Playful Side
Whether you're launching a brand, celebrating a major business deal, or expressing your gratitude toward your employees for their hard work: book a photo booth! 
Professional (but lighthearted) photos won't just fit perfectly on your business' website or social media pages, they'll also present your brand as relatable and personable.
Provides a Plethora of Fun and Unique Props, Backgrounds, and Branding Options to Make Each Photo Booth Experience Memorable
To put your signature on the event, you might go with the traditional company logo watermark on your photos. With our different personalization options, you also have plenty more ways to add your company branding. 
Whether you're gunning for custom themes or props sizzling with personality, Pixilated is the perfect partner for promoting brand recognition while remaining professional.
Why Choose Pixilated for Your Events? 
In terms of practicality and portability, Pixilated goes where no other photo booth service dares to tread. 
Our simple, efficient, compact, and user-friendly booths boast a range of packages and customizable extras that won't be a headache to set up!
High-Quality Photo Booth Rental
Quantity or quality? With us, you can have both! 
Our booths are professionally equipped to take unlimited photos with stellar quality. 
And if you want to add your personal touch to the photo booth experience, we're more than happy to give you the creative leeway to design your event in the exact way you want it to look!
Base or Pro Camera
All our booths come with the Base camera, but don't mistake our standard offering for something that's basic. At 8 MP, this camera kit is more than capable of capturing your gorgeous smiles in crystal-clear definition.
Looking for an option that packs a greater punch? Upgrade to our 18 MP Pro cameras for extra crisp, extra sharp, extra attractive pictures. 
Standard or Customized 
We all know the horror of showing up in the same outfit as another guest… prefer a similar snafu and avoid using the same photo booth setup as everyone else too! 
With Pixilated, you get to truly own the occasion by personalizing your backdrops, props, filters, and more.
Wide Variety of Packages
From wacky outer space trips to restrained and sophisticated formal galas, there's always a photo booth package that perfectly matches the occasion. 
Huddle together for a brilliant group photo or boldly face the camera by yourself — these booths will never disappoint!
Standard Photo Booth
This is our claim to fame — the original Pixilated  self service photo booth rental kit. Simple and straightforward, it won't let you down in terms of quality, portability, and ease of use.
GIF Booth
Not one, but three photos neatly packed together in a moving memento! Our GIF photo booth rental lets you tell a three-part story in three different poses. 
Or, maybe it's one pose and then two subsequent descents into irresistible laughter! Whatever the case, you're guaranteed to have fun with this one.
Green Screen Booth
Got a themed party packed to the brim with creative posers? Transport everyone to a place that perfectly fits the occasion with our green screen photo booth at just a fraction of the cost! 
Whether it's an underwater scene amid swimming fish or a visit to Santa's workshop, a good backdrop sets the stage for some truly unique photos.
Black & White Booth
Old-school, glam black & white photobooth just hits differently when it comes to 20th-century glam parties. 
Give your brand event a classy finish with our high-contrast, monochromatic filter, and watch as your memories become preserved in time.
Extras & Add-Ons! 
The ordinary, everyday photo booth is usually very fixed and rigid in what it offers. 
Here at Pixilated, we felt this to our core. So, we've made sure there are plenty of options for you to spice up the experience every, single, time! 
With us, rent all the additional backdrops, props, and prints you want and keep the fun fresh! 
5-Minute Setup Process
Do away with complicated manuals and booths that take days to set up. Our kits are designed to be up and running with the simplest set of instructions! 
There aren't many parts either, so you won't have to worry about assembling your kit all by yourself. The booth will be ready to snap away in as little as 5 minutes!
No Mess
Our equipment and packaging are nice and neat, making them ideal for small venues. 
Most importantly, battery-run and cordless booths mean that they won't trip up excited guests and ruin the festive vibe!
No Rush! 
Nobody likes by-the-hour rentals — even the companies lending the products. That's why we skip the extra paperwork by letting you keep the booth for a full day!
This way, you get to spend more time with your booth without rushing or stressing about the time. Is the party going to last longer than expected? Purchase add-on days to extend your booth time even more!
Serving the Entire United States
We ship for free to every state in the US besides Hawaii and Alaska. If you're in these two states, you can still book a booth
(phew!)
but there will be a shipping 
fee. 
Here's what we're saying: we'll supply you with a great rental wherever you may need one!
How It Works
We love keeping things simple and straightforward for everyone involved. 
Our philosophy shows up everywhere – particularly in the way we handle our bookings, setup, and returns. Our approach and professionalism are time-tested, so we're confident that you'll love us too.
Make Your Pick
Nope – there's no need for contact forms or leaving your number just to get a quote. Booking your next photo booth is so straightforward that you'll be done in no time! 
Simply choose the perfect photo booth package to go with your event's theme and mood, customize it to your heart's desire, and provide us with your event details. Once that's done, we'll handle the rest.
Receive and Unbox
Speedy free shipping will get our booths to your door in no time! Wherever you may be, we guarantee to have your kit delivered at least a day before the party.
Received your box of goodies? Open it to find the camera kiosk, tripod, battery packs, and other extras! Oh, and don't forget to keep the box in a safe place because you'll need it to return the gear later!
Set Up and Use
Read the instruction card and follow it to the letter — you'll quickly have the booth ready to snap the night away. 
Choose where you'd like to set up your booth and watch as your guests start queuing up immediately!
While it's self-operated, there's no need to worry about complicated prompts. Your guests can capture their beautiful smiles simply by tapping the intuitive screen.
Pack Up and Return
It's easy to set up – and just as easy to take down! Place your camera kiosk, tripod, and battery packs back into the box and drop them off at your local UPS store. That's all you need to do!
Post-event, you can even order prints of all the photos that were taken during the special day. There isn't a more perfect addition to thank-you notes!
Have a Blast with Pixilated's Event Photo Booth Rentals!
Now that you know all the details, your next step is crystal clear — head over to our booking page and reserve yourself a booth!
Select the booth of your choice, purchase optional add-ons, and cruise through the checkout with ease. 
Partnering with us means ticking off one more thing on your party planning To Do list without even breaking a sweat!
Book a photo booth for your event today
Not looking for photo booth for your event? Pixilated also specializes in:
Photo Booth Rental Options
See what our happy clients have to say
Our photo booth rental kits are available everywhere in the United States
We ship the kit to you

Guaranteed to arrive at least one day prior to your event. Includes everything you need. Delivered by UPS right to your doorstep. Free shipping.

You set it up and take photos

Unpack. Assemble. Connect to wifi...then the fun ensues! Snap as many images as your heart desires, arm in arm with your friends, all day (and night)!

Then you send it back to us

The next business day following your event, pack up the equipment in the original box and drop it at the nearest UPS Store. Free shipping, again.
What's included in the photo booth kit?
More affordable, more flexible, more customizable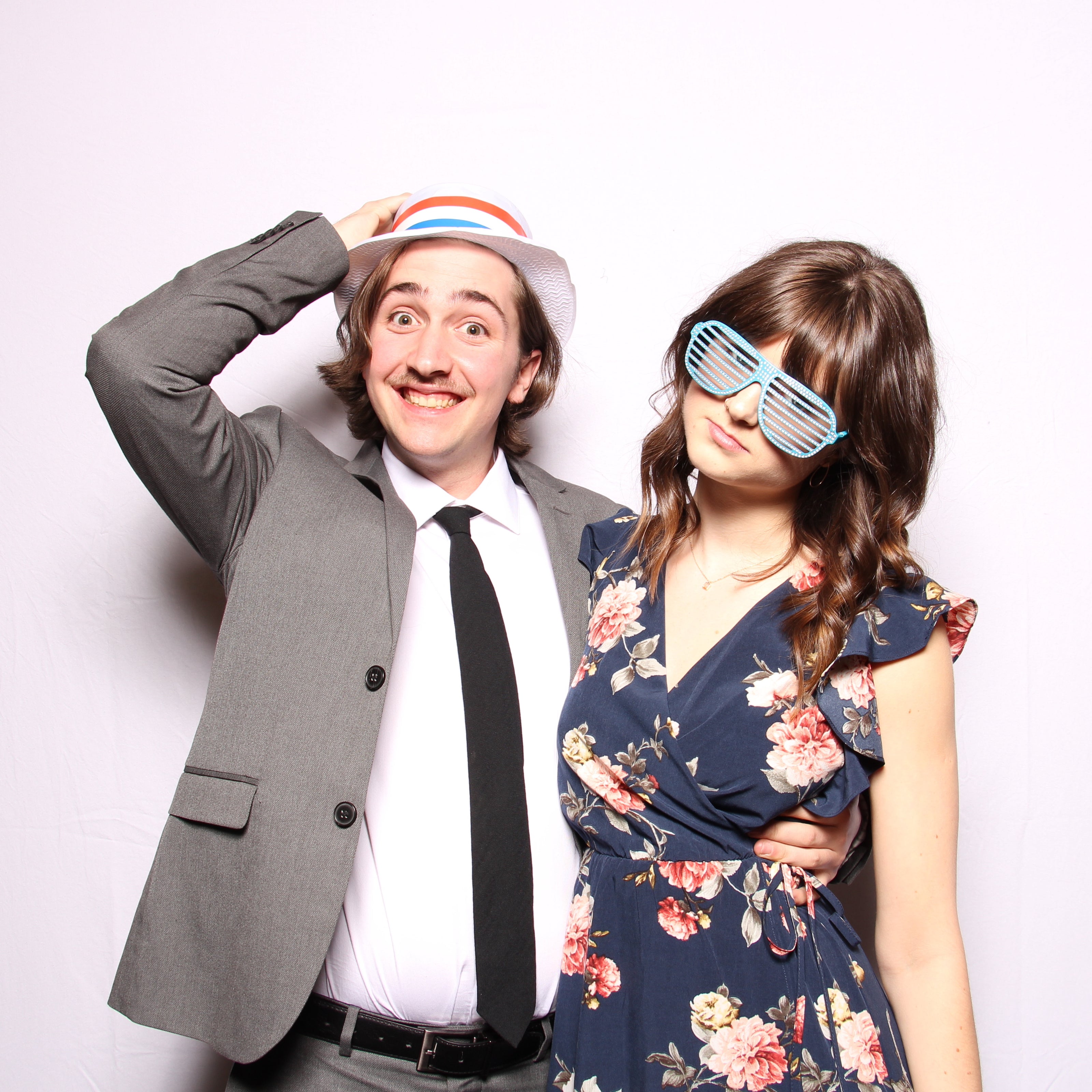 1. Fast, easy online booking

Just choose your desired options, add to cart and checkout
2. Free, reliable delivery

Guaranteed to arrive minimum one day prior to your event
3. Works right out of the box

Takes 5 minutes to set up, even for my grandpa :)
4. Compact and portable

The entire package is 24" x 24" x 10" and weighs less than 25 lbs, including the stand
5. Completely wireless

Runs on a battery pack, and comes with a backup just in case
6. Great photos, no photographer needed

Upgrade to our 18MP smart camera for awesome quality
7. The most affordable

The cheapest photo booth rental on the market…in price, not quality ;)
8. Rent by the day, not the hour

Who are we to tell you when the party ends!?
9. Awesome personalization options

Create your perfect experience with GIFs, green screens, monochromatic photos, themes, frames, and more!
10. Simple guest experience

No need for an expensive attendant adding to your already over-budget headcount...our booths are DIY and super easy to use!
Pixilated Photo Booth
Office Hours

9:00AM - 5:00PM ET

Monday - Friday
Frequently Asked Questions
How much space is required?

If you do not plan to set up a backdrop, the kiosk itself takes up a 3' x 3' footprint.

If you plan to set up a backdrop, it depends on the width, but usually around 8' x 8' will suffice.
Do I need WiFi?

Ideally, you'll connect your booth to WiFi so your guests can send themselves their images instantly through email or text message.

If you don't have on-site WiFi or a hotspot, your photos will get stored in an "offline queue" until the device gets connected to a network. At that time, all images will instantly get sent.
When will my booth be delivered?

We'll ship it to you so you have it at least one business day prior to your event date.

Need it sooner? Contact us
Can I book over the phone?

Need help making decisions?

Call us at 888-902-0054 and we can help you with your booking over the phone.
How long can I use my rental?

Our booths rent by the day, not the hour…so you can use it for up to 24 hours!

If you purchase additional days, each added day is equal to a 24-hour time block.
Do I need a power source?

No!

We provide two battery packs that will last up to 8 hours (4 hours each) and can be recharged for continuous usage.

No messy cords. No trip hazards. No problems!
Do I need to set up lighting?

No, both of our camera options have a lighting source.

The Base 8MP camera has a LED light source attached with different brightness settings.

The Pro 18MP camera has a built in smart flash that will adjust to the lighting automatically no matter the environment. This is the best option for venues that are dimly lit.

All that said, any photographer knows that good light is the key to great photos, so if you can find a spot that naturally has good lighting, that'll be the cherry on top!
How far in advance do I need to place my order to take advantage of free ground shipping?

We guarantee free shipping for events that are a minimum 7 days away.

Contact us if you have a rush order!
How do I return my booth after my event?

Within one business day after your event, you'll repack it in the same box that it was delivered in, place the return label on the box, and take it to any UPS drop-off location. That's it!
How do guests get their images?

After each photo session, your guests can email or text their pictures to up to 5 people.
What's the difference between the "Base 8MP" camera and the "Pro 18MP" camera?

The Pro 18MP camera takes really crisp high-resolution photos and works great in every lighting scenario.

The Base 8MP camera is is the better option if you're on a budget.
What is the difference between the design options "Standard" and "Customized"?

Standard design includes our classic booth interface without any customization options, like logos, graphics or frames. This is a great option if you have a busy backdrop or are going for a clean, classic look.

Customized design allows you to use our templates or to work with our designers to create your very own branded booth experience. Great for wedding themes and monograms, or to add logos.
Can the GIF booth also take regular photos?

You bet!

Our GIF Booth gives you the option to choose to take a photo or a GIF. There is a button on the left that says Tap for Photo and a button on the right that says Tap for GIF.
For the Green Screen Booth, is the physical green screen included?

Yes, we provide you with a green screen (chroma key) backdrop that includes the stand.