Graduation Party Photo Booth Rental
Photo Booth Rental for Graduation Party
Graduation is an event you'll want to remember forever!
Looking for fun ideas for graduation parties? Capture the pride, relief, happiness, and the tearful goodbyes with a one-of-a-kind Pixilated photo booth rental. 
A Pixilated photo booth kit will be the absolute highlight of any graduation party, and the key to documenting these precious memories forever.
With everything you need for your DIY photo booth rentals guaranteed to arrive at your door one business day before your event, you can concentrate on celebrating and leave the rest up to us!
Graduate in Style with a Picture-Perfect Photo Booth Experience
You only get to graduate a few times in life, so why not live it up with a Pixilated photo booth?
When you book a Pixilated booth, your guests can take professional quality photos with ease — no blurry phone pictures here! And as no one needs to operate the camera, everyone from Uncle Bob to Grandpa Joe will be able to take part.
As for price, Pixilated offers the best-value DIY booths on the market, along with the highest quality for its price point. 
Rest assured that you'll be able to capture all of your precious moments with our booths, and you won't have to break the bank to do so.
Celebrate Accomplishments
Graduating is a huge feat to accomplish and it's definitely something worth celebrating!
Help your graduate to feel like the superstar that they are, and make their day extra special with a Pixilated photo booth.
Commemorate the Occasion
Whether you're a scrapbooker or not, photos are a vital part of reminiscing – so why not have a Pixilated booth on hand to remember the occasion?
We promise you'll be glad you did five or ten years down the line!
Create Lasting Memories
Live in the moment, but make sure you record it for the future as well. 
Having either digital or print photos from your Pixilated booth will allow you to relive a great graduation party night for you and the whole family.
Record Friendships and Relationships
Graduation marks not just the end of one chapter, but the beginning of another. 
A Pixilated photo booth is a great opportunity for your graduate to take a photo of the whole gang and capture the dynamic they had. 
And why not include props? What better way to record your "Most likely to…" moments years later at your reunion!
Share with Family and Friends
With the ability to send photos directly to devices by Wi-Fi through email or SMS (up to five numbers), your guests can share their photos straight away to social media or with family and friends. 
Plus, after the event is over, you'll be emailed a full gallery of images from the night to share with your guests. 
More of a physical print person? Why not add on the photo print package and have 4" x 6" prints shipped to you 7–10 days after your celebration! 
However you want to share your images with your loved ones, Pixilated's got you! 
Why Choose Pixilated for Your Graduation Parties? 
High-Quality Photo Booth Rental
Base or Pro Camera
We offer two camera qualities: Base (8MP) and Pro (18MP). 
If your event is low-key and the dress code casual, the Base package might be the best choice for you. 
If everyone is in black tie and the venue is gorgeous, you might want to consider the Pro package!
Of course, it's 100% up to you — the quality of either is excellent, but Pro offers a sharper touch. 
Standard or Customized
There may be thousands of graduation parties going on at the same time as yours, but none will be at the same level when you have a Pixilated booth!  
You can opt for regular photos, or photos with a logo overlaid. This could be the graduate's school or college, the family crest or name, or even a graduate's cap in the corner!
Wide Variety of Packages
Photo Booth
This is our standard booth — but our standards are higher than the rest! 
When we set out to make this booth, we had three objectives in mind: quality, practicality, and ease of access.
With our original photo booth, you can order, set it up, use it for your party, and then return it in a simple and streamlined process.
Your celebrations matter — and so do the photos!
GIF Booth
A picture is worth a thousand words — so a series of three photos is worth a whole lot more!  
Capture three moments in one with our GIF photo booth, and if you can't choose between our standard or our GIF booths – this booth can do both! 
Green Screen Booth
Our Green Screen booth is heaps of fun. It can take you anywhere!  
Peruse destinations like the beach, a volcano, snowy mountains, and more — who knows where your graduate will end up?
Black & White Booth
People once marveled at the sight of a photograph in color. Ironically, today we do the same for photos with a traditional black-and-white filter! 
Black and white filters bring a timelessness to your pictures. Popular amongst those looking for a touch of glam, you'll feel like a movie star with our Black and White booth.
Extras & Add-Ons!
Want some extras to deck out your photo booth? Easily add backdrops, props, and prints, rent a Wi-Fi hotspot, or add days to your kiosk rental period. 
You might even consider creating a customized backdrop for your photo booth.
Whatever you need to make your graduation party a blast, we can help!
5-Minute Setup Process
Our photo booths have been present at an enormous variety of events with a huge assortment of people. Anyone can set up and operate our booths – we're sure of that. 
There are nine easy steps, from unpacking the kit and plugging it in to positioning it correctly. We even include a handy quick-start photo card in the box to help you! 
Pixilated photo booths contain nothing complicated so you can get the party started quickly and with confidence!
No Mess
You may be imagining cords snaking across the dance floor. That's not an issue with a Pixilated booth, as they're neat and completely cordless! 
The booths run on a battery pack, and we'll even supply you with two fully charged packs (plus a recharger) – so the party can go all night long! 
No need to worry about messy packaging either — just use the same box we sent you to return the booth!
No Rush!
By-the-hour rentals entail two things: stress, and a potential late fee. Lucky for you, that's not how we roll! We have no hidden costs or surcharges, and we're very up front about what's included and how much it will cost based in the items you order.
Easy, by-the-day rentals mean that you won't have to rush to get your booth back to us when you're supposed to be having fun at your event.  
Just return it via free UPS shipping (return label supplied in the box) one business day after your party! 
By-the-day is our way, and you can even add on additional days to give yourself a little more leeway. 
Serving the entire United States
Pixilated is based in Maryland, but we ship all over the United States. Shipping is free to all states excluding Hawaii and Alaska, though we have loyal customers in those states too! 
Wherever your home or school town is, we'll be able to get a Pixilated photo booth there!
How It Works  
Choose Your Booth
There's a wide selection of photo booths and add-ons to choose from. But don't be overwhelmed — we offer bundles for specific events, as well as graduation-themed props!  
Choose your gear, check out, and enjoy our speedy, stress-free shipping at no extra charge. 
Receive and Unbox
A neat box will appear at your door, containing all the components of your photo booth.  
Tear it open, but remember to save the box — you can use it to return the kit afterward. Reduce, Reuse, Recycle!
Set Up and Take Photos
Follow the steps on the handy quick-start card (with pictures) to set up your booth. It should only take five minutes and a single person.  
Then, decorate your booth with a glitzy backdrop and all the on-theme props you want. Tap the screen to take photos once the party starts!
Pack Up and Return
All good things must come to an end!  
When you're ready, pack up your camera kiosk, tripod, and battery packs into the original box, and drop it off at your local UPS store.  
This ends your journey with your Pixilated photo booth… until your next event!
Have Memories to Last a Lifetime with Pixilated's Graduation Party Photo Booth Rentals!
Graduation is one of those events that make people proud. There is no graduate in the world who regretted taking photos at their graduation party! 
Renting a Pixilated photo booth will ensure that you, your graduate, and your guests will have long-lasting memories to commemorate this epic event. 
So what are you waiting for? Book your Pixilated photo booth rental now for your upcoming graduation!
Seniors, we're ready for you!
Book a photo booth for your graduation party today
Not looking for photo booth for your graduation party? Pixilated also specializes in:
Photo Booth Rental Options
See what our happy clients have to say
Our photo booth rental kits are available everywhere in the United States
We ship the kit to you

Guaranteed to arrive at least one day prior to your event. Includes everything you need. Delivered by UPS right to your doorstep. Free shipping.

You set it up and take photos

Unpack. Assemble. Connect to wifi...then the fun ensues! Snap as many images as your heart desires, arm in arm with your friends, all day (and night)!

Then you send it back to us

The next business day following your event, pack up the equipment in the original box and drop it at the nearest UPS Store. Free shipping, again.
What's included in the photo booth kit?
More affordable, more flexible, more customizable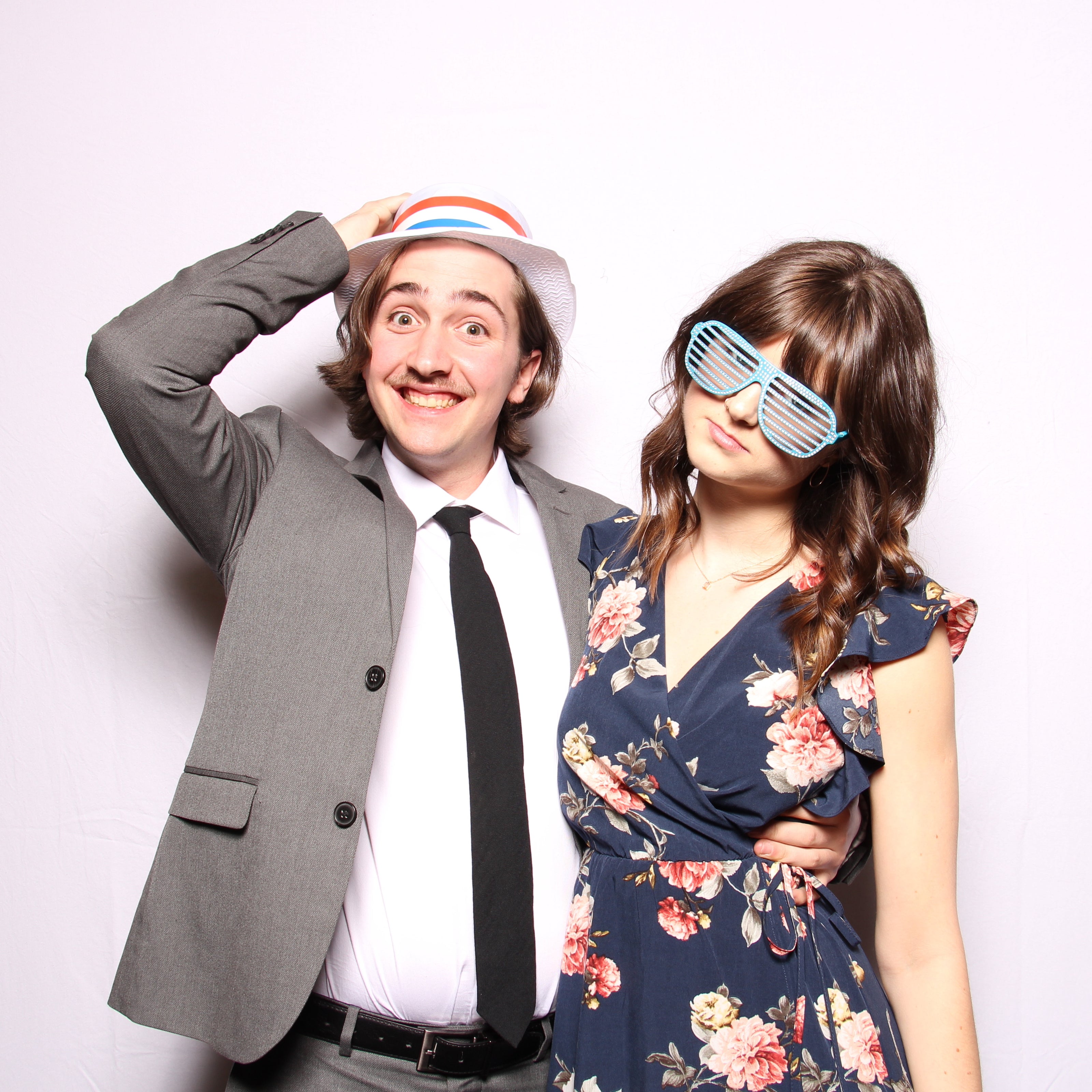 1. Fast, easy online booking

Just choose your desired options, add to cart and checkout
2. Free, reliable delivery

Guaranteed to arrive minimum one day prior to your event
3. Works right out of the box

Takes 5 minutes to set up, even for my grandpa :)
4. Compact and portable

The entire package is 24" x 24" x 10" and weighs less than 25 lbs, including the stand
5. Completely wireless

Runs on a battery pack, and comes with a backup just in case
6. Great photos, no photographer needed

Upgrade to our 18MP smart camera for awesome quality
7. The most affordable

The cheapest photo booth rental on the market…in price, not quality ;)
8. Rent by the day, not the hour

Who are we to tell you when the party ends!?
9. Awesome personalization options

Create your perfect experience with GIFs, green screens, monochromatic photos, themes, frames, and more!
10. Simple guest experience

No need for an expensive attendant adding to your already over-budget headcount...our booths are DIY and super easy to use!
Pixilated Photo Booth
Office Hours

9:00AM - 5:00PM ET

Monday - Friday
Frequently Asked Questions
How much space is required?

If you do not plan to set up a backdrop, the kiosk itself takes up a 3' x 3' footprint.

If you plan to set up a backdrop, it depends on the width, but usually around 8' x 8' will suffice.
Do I need WiFi?

Ideally, you'll connect your booth to WiFi so your guests can send themselves their images instantly through email or text message.

If you don't have on-site WiFi or a hotspot, your photos will get stored in an "offline queue" until the device gets connected to a network. At that time, all images will instantly get sent.
When will my booth be delivered?

We'll ship it to you so you have it at least one business day prior to your event date.

Need it sooner? Contact us
Can I book over the phone?

Need help making decisions?

Call us at 888-902-0054 and we can help you with your booking over the phone.
How long can I use my rental?

Our booths rent by the day, not the hour…so you can use it for up to 24 hours!

If you purchase additional days, each added day is equal to a 24-hour time block.
Do I need a power source?

No!

We provide two battery packs that will last up to 8 hours (4 hours each) and can be recharged for continuous usage.

No messy cords. No trip hazards. No problems!
Do I need to set up lighting?

No, both of our camera options have a lighting source.

The Base 8MP camera has a LED light source attached with different brightness settings.

The Pro 18MP camera has a built in smart flash that will adjust to the lighting automatically no matter the environment. This is the best option for venues that are dimly lit.

All that said, any photographer knows that good light is the key to great photos, so if you can find a spot that naturally has good lighting, that'll be the cherry on top!
How far in advance do I need to place my order to take advantage of free ground shipping?

We guarantee free shipping for events that are a minimum 7 days away.

Contact us if you have a rush order!
How do I return my booth after my event?

Within one business day after your event, you'll repack it in the same box that it was delivered in, place the return label on the box, and take it to any UPS drop-off location. That's it!
How do guests get their images?

After each photo session, your guests can email or text their pictures to up to 5 people.
What's the difference between the "Base 8MP" camera and the "Pro 18MP" camera?

The Pro 18MP camera takes really crisp high-resolution photos and works great in every lighting scenario.

The Base 8MP camera is is the better option if you're on a budget.
What is the difference between the design options "Standard" and "Customized"?

Standard design includes our classic booth interface without any customization options, like logos, graphics or frames. This is a great option if you have a busy backdrop or are going for a clean, classic look.

Customized design allows you to use our templates or to work with our designers to create your very own branded booth experience. Great for wedding themes and monograms, or to add logos.
Can the GIF booth also take regular photos?

You bet!

Our GIF Booth gives you the option to choose to take a photo or a GIF. There is a button on the left that says Tap for Photo and a button on the right that says Tap for GIF.
For the Green Screen Booth, is the physical green screen included?

Yes, we provide you with a green screen (chroma key) backdrop that includes the stand.