Photo Booth Rentals for Sporting Events
Score Big with Photo Booth Rentals for Your Next Sporting Event!
Loud roars, thundering cheers, and the excited screams of fans, families, and friends – there's nothing quite like a premier sporting event.
Do you know what would elevate the experience and make it even more memorable? A high-quality photo booth rental, courtesy of Pixilated!
Treat sports fans to an extra activity with our fun and interactive booths, flashy backdrops, and quirky props that serve as an engaging half-time break from the adrenaline-pumping activities of the day.
Book your booth now, and have your guests come for the classic moments and leave with unforgettable memories!
Capture the Action: Photo Booth Rentals for Sporting Events!
Provides a Fun and Interactive Activity for Sports Fans
Not only will our photo booths capture your event in all its glory, but they'll also add an extra element of fun to the day! 
In between watching the game and grabbing snacks, guests can pop into the booth to snap precious pics of their awesome time together. It's also a great way for them to cheer on their favorite teams and players!
Helps to Engage Fans and Keep Them Entertained during Breaks in the Action 
During breaks between games, sports fans are still hyped up and raring to expend that pent-up energy. Keep them entertained with the different features of our photo booths!
They'll get to let their big, wacky sports fan sides out for the camera without fear of being watched by a photographer.
Provides a Way for Fans to Create Lasting Memories of the Event
Fans will be left wanting more when they go home with their perfect photographs from the event. 
With a self-service photo booth around, there will be long-lasting photographic evidence of the fun they had!
Social Media Marketing and Promotion
Say hello to free promotional material on social media, with fans posting their photo booth snaps of the day for all their friends to see! 
Provide a common hashtag for guests to use on their pics so everyone gets to join in all the fun.
Customize with Team Branding for Added Exposure and Recognition
Get creative and add team branding to your booth. This will amp up team exposure and recognition when fan photos are shared on social media. 
Devoted fans will also appreciate that their favorite team is represented, encouraging them to snap even more photos!
Provides a Fun and Unique Way for Fans to Show Support for Their Team
Fans get to support their favorite team in a fun new way with Pixilated photo booths.
With our fun customization options, props, and plenty more, fans will be able to express love for their favorite team for everyone to see!
Offers a Fun and Exciting Element to the Overall Game-Day Experience
Our photo booth rentals guarantee that there's fun for the whole family on game day! 
Teens and younger children will have a ball taking funny snaps while the parents zone in on the game.
Generate Additional Revenue through Photo Booth Rental Fees or Sponsorships
Curious about how you can turn the photo booth into a method of generating passive revenue? Try incorporating sponsorships into the photo booth experience! 
Or, ask guests to pay a tiny amount to use the booth. With all the fun customizable additions you've included, you'll be racking up funds in no time!
Why Choose Pixilated for Your Sporting Events? 
High-Quality Photo Booth Rental
You'll receive nothing but the best when you choose a Pixilated photo booth rental. We have a range of different options that cover whatever best suits your event needs!
Base or Pro Camera
If you're on a budget, our 8-megapixel Base camera will do the job excellently and provide you with quality pictures of everyone's time at the event.
For more crisp, higher-quality resolution, our top-of-the-line 18-megapixel Pro camera is a trailblazer that captures your guests' brightest smiles!
Standard or Customized
Our standard booth rental lets you take quality pics without extra trimmings such as graphics or logos. 
This is a great option if you're on a tighter budget for your event, or simply want a perfectly capable booth minus the bells and whistles.
If you're looking for extra frills, our customized booths make the experience all the more exciting! A customized booth is ideal for sporting events as you'll have room to add promotional sponsors or team logos to your snaps.
Wide Variety of Packages
We have four different, unique packages to suit your sporting event. Whatever the occasion may be, you can trust that our rental photo booths will deliver!
Standard Booth
Our classic photo booth takes pictures that simply (and effectively) capture the moment. 
We do the fundamentals of photography extremely well – much to the delight of your guests!
GIF Booth
The GIF photobooth is a barrel of laughs, capturing the moment in motion for a 100% silly result. For a sporting event, this is a definite winner!
Green Screen Booth
If you don't have a backdrop at your venue that's suitable for photographs – fear not! 
Our green screen photo booth provides you with a range of backgrounds to transform your snaps entirely.
Black & White Booth
For some old-school style, try our black and white photo booth. Guests will love this classic effect and enjoy the sophisticated feel of the photos that result!
Extras & Add-Ons!
We have an excellent range of extras and add-ons like frames and logos that you can play around with! 
Mix and match different prop sets, backdrops, and more, and let your creativity guide you in capturing the fun and feel of your sporting event!
5-Minute Setup Process
Unlike other clunky rentals, Pixilated photo booths are up and running in as little as 5 minutes.
DIY setup couldn't be any easier thanks to our elegantly straightforward design, for a simple and efficient experience!
No Mess
Our booths are compact, sleek, cordless, and entirely mess-free. Once the booth is ready, there's no need for any cleanup! 
Simply move on to the next job on your list, because we'll have your all event photography requirements sorted.
No Rush!
Once your event is over, there's no need to rush when packing down your booth. Unlike many other photo booth companies, our rentals are by the day. 
Take your time setting up and packing down the rental without any stress over time constraints!
Serving all 50 States
We rent our booths seamlessly to each of the lower 48 states. Wherever you are, we'll ship a booth to you at no cost. That's right, shipping for delivery and return is on us!
If you're in the lower 48 states, we'll even ship the kit to you for free! Don't worry, Hawaii and Alaska patrons are still a high priority – there's just a teeny-tiny bit of extra charge involved.
How It Works
Choose the Perfect Booth and Other Extras
Head over to our packages and select the booth that best fits the event. You'll also have plenty of options with Base or Pro cameras, as well as standard or customized rentals!
Spice things up by selecting your backdrops, props, and other extras of choice for a truly unique time.
Sit Back, Relax, and Enjoy
When all's said and done, simply input the details of your event – and we'll handle the rest! 
All that's left to do is to sit back, relax, and experience the calm of knowing that your event photography is in safe hands with us. 
On game day, your booth will be waiting for you to set up — a process that takes just moments to complete. 
Celebrate the Win with Our Sporting Event Photo Booth Rentals!
Commemorate the special sporting occasion with a Pixilated photo booth! 
With our nifty devices, you'll capture the invaluable, pure pride and joy on fans' faces in the moments before, during, and after the game. 
Whether it's baseball, golf, or an online gaming event, make sure to preserve all those precious memories. Head over to our booking page and reserve your photo booth today! 
Treat everyone to the most spectacular time and let them add your event to their archive of big wins!
Book a photo booth for your sporting event today!
Not looking for photo booth for your sporting event? Pixilated also specializes in:
Photo Booth Rental Options
See what our happy clients have to say
Our photo booth rental kits are available everywhere in the United States
We ship the kit to you

Guaranteed to arrive at least one day prior to your event. Includes everything you need. Delivered by UPS right to your doorstep. Free shipping.

You set it up and take photos

Unpack. Assemble. Connect to wifi...then the fun ensues! Snap as many images as your heart desires, arm in arm with your friends, all day (and night)!

Then you send it back to us

The next business day following your event, pack up the equipment in the original box and drop it at the nearest UPS Store. Free shipping, again.
What's included in the photo booth kit?
More affordable, more flexible, more customizable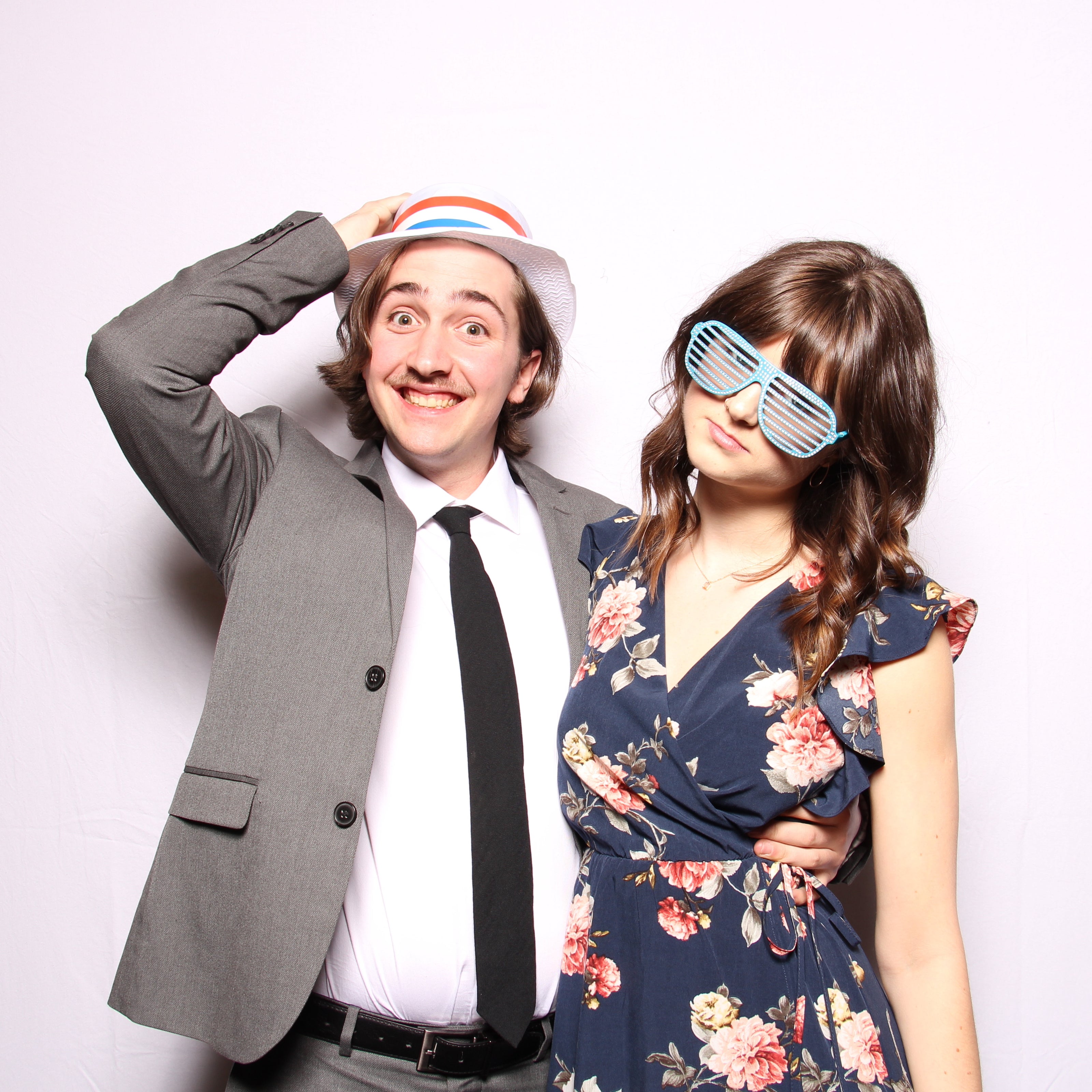 1. Fast, easy online booking

Just choose your desired options, add to cart and checkout
2. Free, reliable delivery

Guaranteed to arrive minimum one day prior to your event
3. Works right out of the box

Takes 5 minutes to set up, even for my grandpa :)
4. Compact and portable

The entire package is 24" x 24" x 10" and weighs less than 25 lbs, including the stand
5. Completely wireless

Runs on a battery pack, and comes with a backup just in case
6. Great photos, no photographer needed

Upgrade to our 18MP smart camera for awesome quality
7. The most affordable

The cheapest photo booth rental on the market…in price, not quality ;)
8. Rent by the day, not the hour

Who are we to tell you when the party ends!?
9. Awesome personalization options

Create your perfect experience with GIFs, green screens, monochromatic photos, themes, frames, and more!
10. Simple guest experience

No need for an expensive attendant adding to your already over-budget headcount...our booths are DIY and super easy to use!
Pixilated Photo Booth
Office Hours

9:00AM - 5:00PM ET

Monday - Friday
Frequently Asked Questions
How much space is required?

If you do not plan to set up a backdrop, the kiosk itself takes up a 3' x 3' footprint.

If you plan to set up a backdrop, it depends on the width, but usually around 8' x 8' will suffice.
Do I need WiFi?

Ideally, you'll connect your booth to WiFi so your guests can send themselves their images instantly through email or text message.

If you don't have on-site WiFi or a hotspot, your photos will get stored in an "offline queue" until the device gets connected to a network. At that time, all images will instantly get sent.
When will my booth be delivered?

We'll ship it to you so you have it at least one business day prior to your event date.

Need it sooner? Contact us
Can I book over the phone?

Need help making decisions?

Call us at 888-902-0054 and we can help you with your booking over the phone.
How long can I use my rental?

Our booths rent by the day, not the hour…so you can use it for up to 24 hours!

If you purchase additional days, each added day is equal to a 24-hour time block.
Do I need a power source?

No!

We provide two battery packs that will last up to 8 hours (4 hours each) and can be recharged for continuous usage.

No messy cords. No trip hazards. No problems!
Do I need to set up lighting?

No, both of our camera options have a lighting source.

The Base 8MP camera has a LED light source attached with different brightness settings.

The Pro 18MP camera has a built in smart flash that will adjust to the lighting automatically no matter the environment. This is the best option for venues that are dimly lit.

All that said, any photographer knows that good light is the key to great photos, so if you can find a spot that naturally has good lighting, that'll be the cherry on top!
How far in advance do I need to place my order to take advantage of free ground shipping?

We guarantee free shipping for events that are a minimum 7 days away.

Contact us if you have a rush order!
How do I return my booth after my event?

Within one business day after your event, you'll repack it in the same box that it was delivered in, place the return label on the box, and take it to any UPS drop-off location. That's it!
How do guests get their images?

After each photo session, your guests can email or text their pictures to up to 5 people.
What's the difference between the "Base 8MP" camera and the "Pro 18MP" camera?

The Pro 18MP camera takes really crisp high-resolution photos and works great in every lighting scenario.

The Base 8MP camera is is the better option if you're on a budget.
What is the difference between the design options "Standard" and "Customized"?

Standard design includes our classic booth interface without any customization options, like logos, graphics or frames. This is a great option if you have a busy backdrop or are going for a clean, classic look.

Customized design allows you to use our templates or to work with our designers to create your very own branded booth experience. Great for wedding themes and monograms, or to add logos.
Can the GIF booth also take regular photos?

You bet!

Our GIF Booth gives you the option to choose to take a photo or a GIF. There is a button on the left that says Tap for Photo and a button on the right that says Tap for GIF.
For the Green Screen Booth, is the physical green screen included?

Yes, we provide you with a green screen (chroma key) backdrop that includes the stand.