Festival Photo Booth Rental
Festival Fun: Rent a Photo Booth for Your Next Event!
Elevate your festival and make it so extra that festivalgoers revel in it for weeks afterward. They'll spread the word and bring back an even bigger crowd next time!
Here at Pixilated, we've got your guests covered with dynamic, easy-to-use photobooth rental kits that anyone can use. Capture memories to look back on for life!
Make Your Festival Memorable with Professional Photo Booth Rentals!
Providing festival-goers with a Pixilated photo booth adds a super unique element that's hassle-free, generates future interest, and allows the festivities to be remembered for years to come!
Provides a Fun and Interactive Activity for Festival-Goers
Where our Pixilated photo booth differs from traditional photographers or Polaroids is with how interactive the entire process is! 
Unlike the alternatives, guests actively choreograph their own poses and smiles to reflect their personalities (and how much fun they're having).
Creates a Memorable Experience for Attendees to Associate with the Festival
Coming together to appreciate the music is expected at a festival. What better way to cherish those who came with you than to snap memories in a photo booth?
The photo-taking process adds a wholesome atmosphere and good vibes overall, highlighting everyone's enjoyment!
Can Be Customized with Festival Branding or Sponsor Logos for Added Exposure
To increase exposure organically, have a go at customizing the photo booth template to include festival branding or sponsors around the photo's edges. You could also go with a customized backdrop to have your logo in the back of all the great pictures. From backdrops to props to having your logo in the photo booth itself Pixilated has you covered with getting your company exposure.
Get people to tag your festival on social media — and presto! You've just saved yourself a whole load of the marketing budget!
Provides a Keepsake for Attendees to Take Home and Remember the Event
Memories are one thing, but having an actual copy is always more valuable.
After a photo booth session, the photographers-slash-festivalgoers can email or text the photo link to five other people so they can look at and download the ones they like!
Offers a Unique and Fun Element to the Festival Experience
Have you ever been to a festival with a photo booth area? 
How about one that didn't come with messy cords and wires that all your drunk friends kept tripping over? 
The chances, we think, are quite low. 
Ladies and gents, please welcome Pixilated. Festival attendees are there to enjoy the music, so why not embrace selfie culture while making it even better quality and more professional? 
Our photo booths ensure that your event stands out from the rest and becomes an eye-catching occasion that's also the talk of the town!
Can Generate Additional Revenue through Photo Booth Rental Fees or Sponsorships
To increase the profitability of your festival, you can charge an extra fee for using the photo booth! As to how you can do this: try providing different colored wristbands that entitle the wearer to snap gorgeous photos.
Additionally, if you have sponsors that appear on the photo booth templates, they can be charged advertising fees as well!
Helps to Engage Attendees and Keep Them Entertained during Downtime
After a few hours, the audience in a festival can start to get bored – especially between acts. 
Renting a photo booth is a quick and easy way to entertain guests! As soon as it's set up, swarms of people will start gathering — don't be surprised if a queue forms!
Why Choose Pixilated for Your Festivals? 
Outdoor-Friendly!
Rain or shine, Pixilated can brave any weather. You don't have to worry about the lens getting wet or damaged like a conventional camera or phone. All you need is a small space outdoors, and that's all there is to it!
High-Quality Photo Booth Rental
Our best characteristic is that we offer high-quality photo booth rentals that suit whatever mood, theme, or party your festival aims to capture!
Base or Pro Camera
Our booths come with the Base camera by default; an 8 MP beast that comes with an attached LED light source with adjustable brightness. 
Want something a bit more powerful? Upgrade to the Pro camera and enjoy a higher 18 MP resolution and smart flash feature that automatically adjusts the camera's lighting!
Standard or Customized
Increase your guests' freedom to customize through our standard or customized rental kit options!
Where a standard design option features a clean, minimalist look that's optimal when you want to show off your background, the customized option offers templates — pre-made or designed from scratch — that incorporate logos, graphics, and frames.
Wide Variety of Packages
Photo Booth
Our standard photo booth rental kit is portable and sleek, features a simple user interface, and allows audience members to take control of their own photo opportunities. 
It's straightforward and gets the job done while creating zero fuss!
GIF Booth
We expect a ton of dancing at any festival, so we come prepared. To capture the jazzy, sporadic movements thrown out by festivalgoers, rent our GIF photo booth rental!
Tap left for regular still photos and right for GIFs with whacky movements! The option to preserve candid moments in full motion is a tantalizing offer that your guests won't be able to resist.
Green Screen Booth
Your crowd will love the freedom our green screens bestow when it comes to changing the background. 
They only need to gather around and pretend they're on a tropical getaway, in college classes (yeah, right!), or even a scene from their favorite horror movie!
Black & White Booth
Accentuate the unique style of your clothing rather than focusing solely on the color! 
With our black & white booths, guests can recreate the scenes of festivals past when color photography didn't yet exist!
Extras & Add-Ons!
Work with our capable, in-house team of graphic designers to give your attendees multiple options when it comes to customizing their photos. 
Whether it's backdrops, filters, or props, everyone will have a blast personalizing their memories!
5-Minute Setup Process
We love to keep things simple. That's why we made sure that anyone can set up the photo booth in just 5 minutes and begin taking photos!
No Mess
Aside from a simple set-up, we guarantee that pack-down is just as simple. Our photo booths come with zero wires or cables. No mess – and you don't have to worry about tripping up excited guests either!
No Rush!
Rather than paying by the hour, you only have to pay per day! 
Enjoy the booth for a singular fee (with no hidden costs) for a one-day festival, and you'll only pay extra for any additional full days of fun.
Serving all 50 States
Here at Pixilated, we ship our DIY photo booth rental kits to all the lower 48 states in the US. 
And even better, we cover shipping both ways! You only need to drop off the repacked box at your nearest UPS point the day after your festival. Leave everything else to us! Don't worry, Hawaii and Alaska patrons are still a high priority – there's just a teeny-tiny bit of extra charge involved.
How It Works
Endless Customization
So, what next? 
Go and book a Pixilated booth online through our website! 
To begin, simply choose the rental package you like, customize the camera, choose your specific add-ons, and tell us your event details. Once that's done, simply proceed to check out!
Sending Out and Enjoying the Rental
After finalizing your order, we'll send the booth your way! 
We guarantee to have your rental with you at least a day before the event. Here's an important note: to enjoy free shipping, book a week in advance!
Say Cheese: Photo Booth Rentals for Festivals Available with Pixilated! 
If you want to make sure your festival doesn't blend in with the blur of past events, why not stand out from the crowd and try something new with a Pixilated photo booth? With endless customizing options your guest will be talking about your festival for years to come. With Pixilated's great pricing you won't be breaking the bank for a good time with great photos.
Simply set it up and let festivalgoers snap away, then ship it back the following day. Voila – festival event photos, successfully handled!
Book a photo booth for your festival today!
Not looking for photo booth for your festival? Pixilated also specializes in:
Photo Booth Rental Options
See what our happy clients have to say
Our photo booth rental kits are available everywhere in the United States
We ship the kit to you

Guaranteed to arrive at least one day prior to your event. Includes everything you need. Delivered by UPS right to your doorstep. Free shipping.

You set it up and take photos

Unpack. Assemble. Connect to wifi...then the fun ensues! Snap as many images as your heart desires, arm in arm with your friends, all day (and night)!

Then you send it back to us

The next business day following your event, pack up the equipment in the original box and drop it at the nearest UPS Store. Free shipping, again.
What's included in the photo booth kit?
More affordable, more flexible, more customizable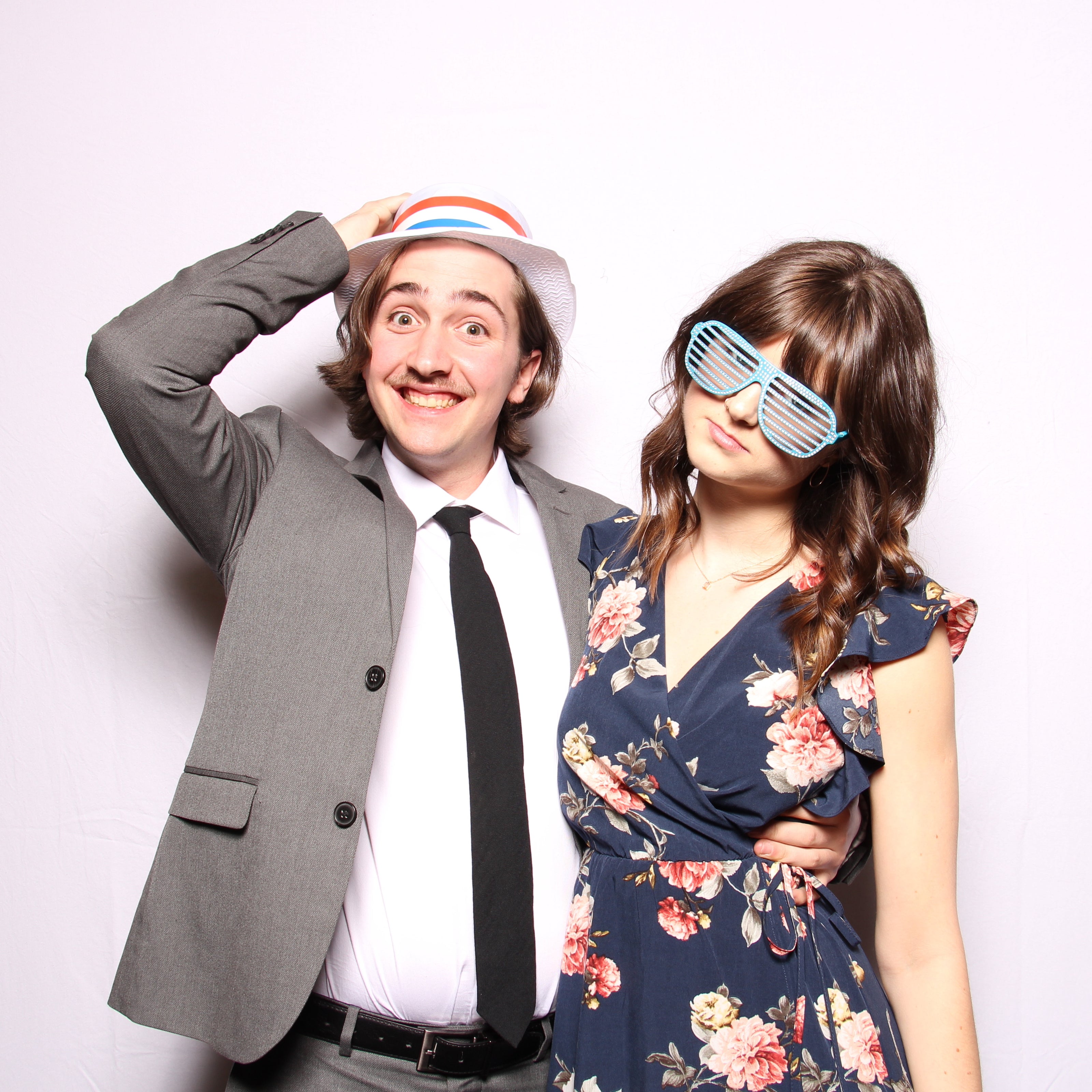 1. Fast, easy online booking

Just choose your desired options, add to cart and checkout
2. Free, reliable delivery

Guaranteed to arrive minimum one day prior to your event
3. Works right out of the box

Takes 5 minutes to set up, even for my grandpa :)
4. Compact and portable

The entire package is 24" x 24" x 10" and weighs less than 25 lbs, including the stand
5. Completely wireless

Runs on a battery pack, and comes with a backup just in case
6. Great photos, no photographer needed

Upgrade to our 18MP smart camera for awesome quality
7. The most affordable

The cheapest photo booth rental on the market…in price, not quality ;)
8. Rent by the day, not the hour

Who are we to tell you when the party ends!?
9. Awesome personalization options

Create your perfect experience with GIFs, green screens, monochromatic photos, themes, frames, and more!
10. Simple guest experience

No need for an expensive attendant adding to your already over-budget headcount...our booths are DIY and super easy to use!
Pixilated Photo Booth
Office Hours

9:00AM - 5:00PM ET

Monday - Friday
Frequently Asked Questions
How much space is required?

If you do not plan to set up a backdrop, the kiosk itself takes up a 3' x 3' footprint.

If you plan to set up a backdrop, it depends on the width, but usually around 8' x 8' will suffice.
Do I need WiFi?

Ideally, you'll connect your booth to WiFi so your guests can send themselves their images instantly through email or text message.

If you don't have on-site WiFi or a hotspot, your photos will get stored in an "offline queue" until the device gets connected to a network. At that time, all images will instantly get sent.
When will my booth be delivered?

We'll ship it to you so you have it at least one business day prior to your event date.

Need it sooner? Contact us
Can I book over the phone?

Need help making decisions?

Call us at 888-902-0054 and we can help you with your booking over the phone.
How long can I use my rental?

Our booths rent by the day, not the hour…so you can use it for up to 24 hours!

If you purchase additional days, each added day is equal to a 24-hour time block.
Do I need a power source?

No!

We provide two battery packs that will last up to 8 hours (4 hours each) and can be recharged for continuous usage.

No messy cords. No trip hazards. No problems!
Do I need to set up lighting?

No, both of our camera options have a lighting source.

The Base 8MP camera has a LED light source attached with different brightness settings.

The Pro 18MP camera has a built in smart flash that will adjust to the lighting automatically no matter the environment. This is the best option for venues that are dimly lit.

All that said, any photographer knows that good light is the key to great photos, so if you can find a spot that naturally has good lighting, that'll be the cherry on top!
How far in advance do I need to place my order to take advantage of free ground shipping?

We guarantee free shipping for events that are a minimum 7 days away.

Contact us if you have a rush order!
How do I return my booth after my event?

Within one business day after your event, you'll repack it in the same box that it was delivered in, place the return label on the box, and take it to any UPS drop-off location. That's it!
How do guests get their images?

After each photo session, your guests can email or text their pictures to up to 5 people.
What's the difference between the "Base 8MP" camera and the "Pro 18MP" camera?

The Pro 18MP camera takes really crisp high-resolution photos and works great in every lighting scenario.

The Base 8MP camera is is the better option if you're on a budget.
What is the difference between the design options "Standard" and "Customized"?

Standard design includes our classic booth interface without any customization options, like logos, graphics or frames. This is a great option if you have a busy backdrop or are going for a clean, classic look.

Customized design allows you to use our templates or to work with our designers to create your very own branded booth experience. Great for wedding themes and monograms, or to add logos.
Can the GIF booth also take regular photos?

You bet!

Our GIF Booth gives you the option to choose to take a photo or a GIF. There is a button on the left that says Tap for Photo and a button on the right that says Tap for GIF.
For the Green Screen Booth, is the physical green screen included?

Yes, we provide you with a green screen (chroma key) backdrop that includes the stand.